We are reader-supported, earning a commission when you purchase through our links. There's no extra cost to you. Thanks for your support! Full disclosure here.
An email domain is the part of the email address that appears after the @ symbol. In other words, it refers to the portion of an email address that matches the domain name of a website belonging to a business, organization or blog.
If you're managing any type of professional organization, you need a custom email domain. It boosts your credibility and professional appearance with clients, donors, vendors and colleagues. Sending a business contact an email from a generic Yahoo or Gmail email address makes you look like an amateur, even if you're not.
If you do not already have one, there are many places to get an email domain, sometimes even for free. Below, we'll show you how to set up a custom email domain without spending much, if any, money.
Your Options for setting up a Free or Low cost email domain
In this post, I'll discuss four ways to get your own email domain when you're trying to save money. While there are many services available, we list four very popular, reputable and affordable options, comparing the cheapest plans offered by each company and a brief description on how to set up you email domain with each one. All of these providers have more expensive plans as well that include more features. The services we recommend are:
1. Bluehost
Bluehost is a recognized and reliable provider in the email and web hosting industry. Many well-known businesses and organizations use them for multiple services. If you choose to host your website with Bluehost, you'll receive a free email domain included with your hosting plan.
This is a solid choice for beginners as well as established businesses and professionals who need a reliable online presence. For WordPress users, Bluehost makes it especially easy to set up your site and email domain, as well as providing a bevy of marketing options. Even if you don't use WordPress, their 24/7 customer service representatives can help you navigate linking your domain to whichever site provider you use.
To get started with Bluehost, you'll have to choose your web hosting plan if you don't already have one.
The Basic plan with shared hosting is just $2.95 a month and gives users email storage and the ability to access their email from anywhere with an internet connection using webmail. This free email service allows you to use your custom email domain regardless of whether your domain name is registered with Bluehost or any other provider, so long as you are a Bluehost web hosting customer.
In addition to web and email hosting, Bluehost offers:
Industry-standard internet speeds
Security features
A money-back guarantee
A 99.9% uptime guarantee
24/7 customer service
Their low-rate entry-level plan increases once you renew your subscription, but that's standard for pretty much every shared hosting provider.
Bluehost makes it easy to sign up for an account and get started with your email via one of their webmail providers. If you prefer Gmail for managing your inbox, see our guide to using Gmail with your custom email address.
Once you've selected a plan, you must either register your new website domain with Bluehost or use a domain name you have already registered with another provider (such as GoDaddy). You can then proceed with the rest of the signup process.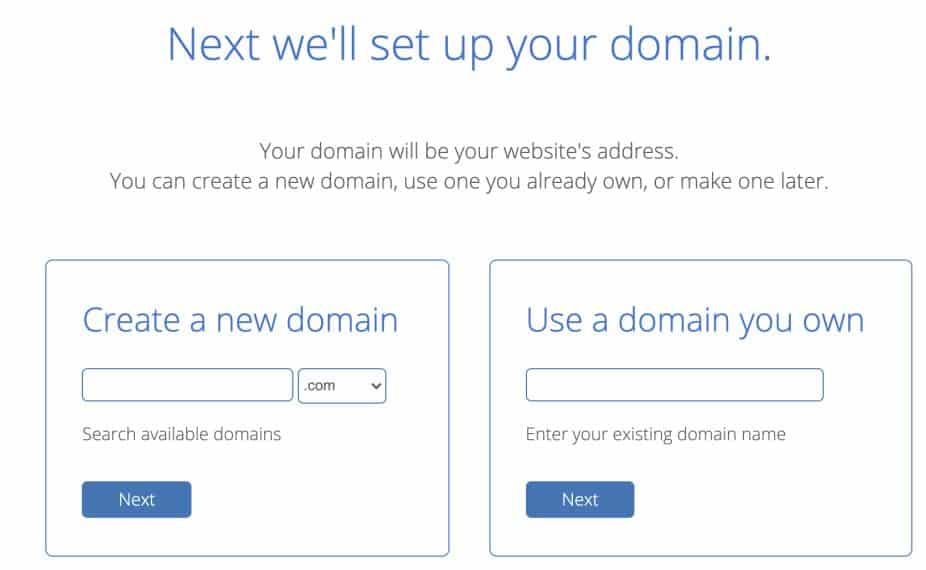 Once you've signed up, you will find yourself in your Bluehost account dashboard where you can manage all of your tools and settings.
From the left-side navigation menu, open the Email & Office tab.
Select the domain you wish to add an address for by clicking Manage.
Click the Create button.
Follow the steps in their wizard until the end, where you will access the control panel when you will find a link to your webmail.
Bluehost is best for organizations and individuals who use WordPress and may need a lot of help from customer service with setup and connections from their excellent 24/7 support team.
2. Google Workspace
Google Workspace is one of the most used and trustworthy email providers in the world and essentially works just like Gmail, but with lots of additional features. With a monthly subscription, after a free 14-day trial period, you can create a custom email domain for your Gmail account.
Signing up for an account allows you to seamlessly integrate with their other platforms and business productivity tools. In addition, you can save money by redeeming Workplace promo codes, which enable you to receive a discount off the Business Starter or Business Standard packages for the first year you sign up. With that and the first 14 days free, it makes their offering really affordable.
Plans start at $6 per user per month for one email, including 30 GB of cloud storage. They also include video conferencing for up to 100 participants.
As with Bluehost, Google guarantees 99.9% uptime on their servers for business email, including advanced spam filters to minimize time sifting junk email in the inbox. They offer standard security protections to keep data secure and to manage lost or stolen devices.
The next level plan they offer is Google Workspace Plus for $12 per user with all the same benefits but 2 TB of storage per user for files. That's a lot of storage and may be appropriate for uses that work with of video and audio files.
As mentioned above, in addition to email hosting, Google Workplace offers access to their other tools, including:
Calendar – time management and scheduling
Chat – direct messages and team chat rooms
Voice – calling phone and other Gmail users
Docs – word processor in the cloud
Drive – file storage
Sheets – spreadsheet program
Slides – professional presentation and slideshow creator
To begin set up with Google Workspace account, you'll first have to answer how many user accounts you'll need. After filling out the required account and payment information, you'll go through an easy-to-follow guide to set up your account. If you have a domain name, you'll need to enter it. If not, you can purchase one from Google.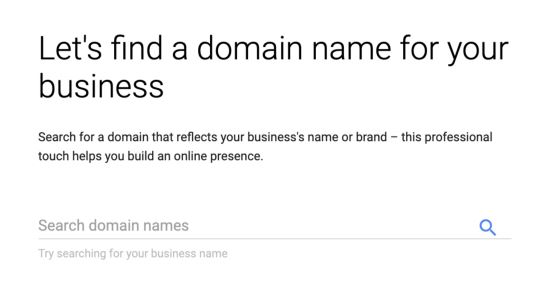 Once your domain is set up, you'll have to link it to your email account. This process is pretty simple, just to be sure our readers don't get confused, we've created this helpful tutorial for setting up your custom email address with Google Workspace.
Once you've set up your account, you'll have access to a support representative in case you have any troubleshooting to do.
This service is best for individuals and organizations who are looking for a complete communications and business productivity solution.
Visit Google Workspace to learn more
3. Microsoft 365
If like millions of professionals around the world, you enjoy Microsoft's business tools, like Word, Excel and PowerPoint, you can create a custom domain email address through your Microsoft 365 subscription. However, this requires you to use GoDaddy as your domain provider. If you don't already own a domain, you'll need to purchase a new one from GoDaddy, the only service Microsoft uses. It will typically cost between $10 and $25 annually. If you own a domain from a different provider, you will not be able to link it to your email through Microsoft. So this may be a nonstarter for you.
If you do not already have a Microsoft subscription, you can sign up to one of their more affordable entry-level plans. The first, their Business Basic plan costs $5 per month per user, and the other is the Standard Business plan, costing $12.50 per month per user. Both plans include 50 GB of storage for your email inbox. The main difference is that whereas the Basic plan only provides web and mobile versions of their productivity tools (MS Word, Excel and PowerPoint), the Standard plan provides desktop versions as well.
All Microsoft 365 plans include cloud-based tools and desktop apps on up to 15 devices per user. In terms of features and functionality, the basic plan is similar to the Google Workplace Starter plan. When signing up, they offer 1-month free for new users.
Getting started:
After signing up, go to settings in Outlook.com.
Under Personalized email address, select Get Started.

Next, you'll have to enter your GoDaddy domain name or purchase one from the provided link.
On GoDaddy, confirm the Domain Name Server (DNS) record is set, or if not, add it by following the on screen step-by-step instructions.
If you're having trouble deciding between Google Workplace and Microsoft 365, check out our detailed comparison.
This service is best for people and organizations who would like access to the entire Microsoft suite of products and apps in addition to having an email domain.
Learn more about Microsoft 365 here
4. Zoho
Zoho is one of the few email domain providers that have an entirely free package. Their Forever Free plan is free for up to five users and includes just 5 GB of storage per user with an attachment limit of 25 MB (you get what you pay for). You'll receive email hosting for a single domain and web access with the free plan, plus their mobile app.
Additionally, they offer all the standard security features and uptime guarantees in line with Bluehost, Google Workplace and Microsoft 365.
The downside of the free plan is that it includes only web access and excludes the popular email formats IMAP/ POP mail configurations, so you cannot link it to another email service provider. However, if you're able to upgrade to a paid plan, you'll receive a host of benefits.
You can upgrade for as little as $1 per month, and if you don't already have a website domain, Zoho will provide one for as little as $10 per year.
The Forever Free plan includes one domain. The next level package, Mail Lite, costs $1 per user per month. It consists of a 15-day free trial, attachments up to 250 MB, email routing, offline access, white labeling, email backup and more.
To set up a free email, go to the bottom of Zoho Mail's pricing page past the other plans listed.
If you already have a domain:
Choose your plan, then set up your account by selecting "Sign up with a domain I already own."
Enter your domain and click add.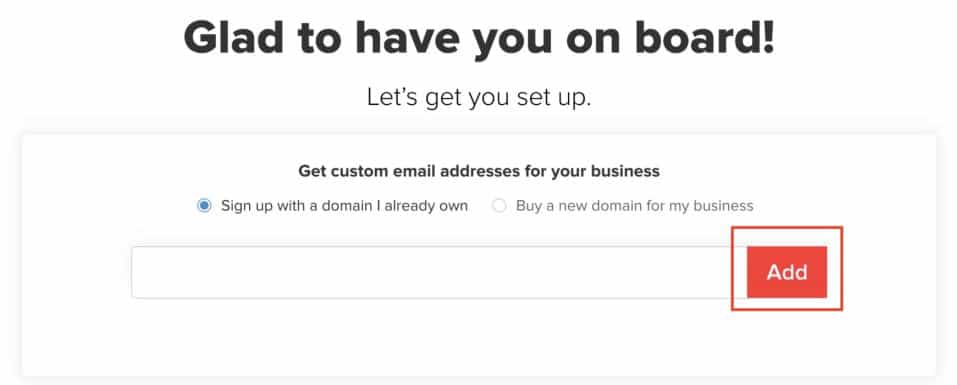 Enter the registration details and select Proceed.
Once your details are correct, select Sign up and fill in the form.
Once added, you'll verify your domain with an easy-to-follow process. After, you'll be able to add users, create emails, set MX records, migrate emails and any other configurations you desire.
This service is best for users who don't need other collaboration tools, do not rely heavily on email communication, and have a very limited budget.
In summary
With so many email domain providers in the market with similar features, the provider you choose will ultimately come down to what you want to pay and which additional business tools you want included in your package. Each of these email domain providers offers a variety of features not only to manage your email but the rest of your organization too. Some of them, like Zoho and Microsoft, will allow you to create more bespoke plans, while others like Google and Bluehost have set packages unless you're an enterprise client.
Any of the email domain providers listed here would be a good choice. It's up to you to do your research and feel confident in the service you select before deciding. You'll want to choose a company that can grow with your business and support you along the way with all the features you'll need. So choose wisely, but keep in mind that switching providers is possible at any time.