We are reader-supported, earning a commission when you purchase through our links. There's no extra cost to you. Thanks for your support! Full disclosure here.
If you're looking into buying a web hosting plan for your website, in your research you will undoubtedly encounter the brands Bluehost and GoDaddy over and over again. These two companies are among the most popular low-cost web hosting providers and have both established themselves as reputable brands.
With similar pricing models and features, it's often hard for customers to really understand which of the two companies is a better fit for their needs. So, we decided to research and compare Bluehost and GoDaddy so you can make a more informed decision when choosing between them.
Pricing
What you can expect to pay for a hostage package depends on the type of plan you need. So before you start shopping around for providers, it's best to understand the size and scope of your website's needs. This will help you choose the right plan and make an apples-to-apples comparison of your choices.
Shared Hosting
If you have a simple website that will likely not exceed 10,000 visitors per month, then a shared hosting (a low-cost plan in which you share server space with other customers) will be sufficient.
Bluehost offers a Basic plan for $2.95 per month, billed annually. This will give you everything you need to get started with a basic site. If you need to host multiple sites, you can upgrade to their Plus plan for $4.95 per month, but I don't recommend it if you plan to optimize these websites for search engines. Please note that the prices vary depending on how long your commit to a hosting plan, and Bluehost changes their prices within a few dollars pretty frequently. Also, once your initial hosting plan expires, you can expect the renewal prices to range from $9 to $13 per month.
GoDaddy offers their comparable Economy plan for $5.99 per month, as well as their Deluxe plan for multiple sites for $7.99 per month, both billed annually. The plan offers very similar features to Bluehost and was designed for small and simple sites. Upon renewal of the initial 3-year term, you can expect to pay between $9 and $12 per month.
VPS Hosting
If website needs ongoing web development work, or if you have tens of thousands of monthly visitors or more, you should opt for a VPS (Virtual Private Server) hosting plan. This will give you dedicate computing resources and more control over your website.
Bluehost offers 3 VPS plans to choose from:
Standard: $18.99 per month (includes 2 cores, 30 GB SSD storage, 2 GB RAM, 1 TB bandwidth, 1 IP)
Enhanced: $29.99 per month (includes 2 cores, 60 GB SSD storage, 4 GB RAM, 2 TB bandwidth, 2 IP)
Ultimate: $59.99 per month (includes 4 cores, 120 GB SSD storage, 8 GB RAM, 3 TB bandwidth, 2 IP)
GoDaddy offers 1 fully-managed VPS plan and a dizzying array of self-managed plans. Self managed hosting is much less expensive and gives you more control over your server configurations, but requires you to have technical expertise.
Fully-Managed VPS: $99.99 per month (CentOS or Windows Server, 2 GM RAM)
Unmanaged VPS: Ranging from $4.99 to $99.99 per month, subject to plan specifications listed below.
| | | | | |
| --- | --- | --- | --- | --- |
| GoDaddy Self-Managed VPS Plan | CPU | Memory | Storage | Price/Mo. |
| Standard RAM 1 vCPU | 1 CPU Core | 1 GB RAM | 20 GB | $4.99 |
| Standard RAM 2 vCPU | 2 CPU Cores | 4 GB RAM | 100 GB | $19.99 |
| Standard RAM 4 vCPU | 4 CPU Cores | 8 GB RAM | 200 GB | $39.99 |
| Standard RAM 8 vCPU | 8 CPU Cores | 16 GB RAM | 400 GB | $69.99 |
| High RAM 1 vCPU | 1 CPU Core | 2 GB RAM | 20 GB | $9.99 |
| High RAM 2 vCPU | 2 CPU Cores | 8 GB RAM | 100 GB | $29.99 |
| High RAM 4 vCPU | 4 CPU Cores | 16 GB RAM | 200 GB | $49.99 |
| High RAM 8 vCPU | 8 CPU Cores | 32 GB RAM | 400 GB | $99.99 |
Essentially, Bluehost is less expensive regardless of the size plan you need, unless you have the technical know-how to use a self-managed hosting plan, in which case you can save a lot of money by using GoDaddy.
Customer Support
GoDaddy once had the worst customer support in the industry, during the days of the mass exit of users from their platform under Bob Parsons. Now the company has become more service-oriented, where organizations can upscale support to app development and web design options. Bluehost customer support has been rated as above average by most technology writers covering the cloud industry. It is recommended to use the phone line directly for immediate assistance on technical or downtime issues.
Overall, both companies offer sufficient technical support that is very comparable from my experience. But note that sometimes when you need help, you may have to wait on hold for many minutes before speaking to a specialist. However, this is common with most hosting providers at these price points.
Money-Back Guarantees
Bluehost offers a 30-day unconditional money-back guarantee. If you are not satisfied with the service for any reason within the first month, they will cancel and refund the fees. The GoDaddy refund policy depends on the plan and can be as short as 48 hours for 1-month plans and up to 3 months for Assisted Service plans. Make sure that you review the service policy of each plan at GoDaddy before sign-up to avoid any confusion. This can make a difference for long-term plans.
Standard Features
All of the standard features you are likely to need plus many more are provided by Bluehost and GoDaddy's shared hosting plans. Bluehost offers cPanel on Linux for domain and web server administration on LAMP. GoDaddy has options for Linux and Windows with a proprietary administration panel. FTP, email, and SSL certificates are also provided on shared hosting accounts. If you use VPS plans, there are different options for web server and domain administration like Webuzo.
Below are the standard features they provide with their least expensive shared hosting packages.
| | | |
| --- | --- | --- |
| | Bluehost | GoDaddy |
| Plan Name | Basic | Economy |
| Storage | 50 GB | 100 GB |
| Bandwidth | Unmetered | Unmetered |
| Databases | 20 | 10 |
| Free Domain | Included | Included |
| Websites | 1 | 1 |
| Spam protection | Included | Included |
| Automated Backups | Included | Included |
| Price | $2.65 per month | $5.99 per month |
Uptime Reliability
GoDaddy still maintains a 99.9% uptime guarantee as part of their Service Level Agreement (SLA), which operates on enterprise scale. Bluehost no longer offers any percentage of guaranteed uptime, stating only that most downtime issues are solved within 15 minutes. This is a big difference, however from my experience with both providers, they rarely encounter downtime, and when they do it's for a couple of minutes.
Website Builders
If you need to build a new website, both Bluehost and GoDaddy have great options for helping you do it yourself, if you choose.
Both providers offer drag-and-drop website builders that let you create a website using design templates that you can customize with a few clicks. In addition, they offer 1-click installation of WordPress, the most popular content management system in the world, allowing you to upload a theme that meets your demands. They also make make it easy to use other content management systems with ease.
Free Hosting
GoDaddy has a free hosting platform similar to WordPress where users can build websites, ecommerce stores, or blogs on a subdomain for free. The subdomains are supported by website builder tools for small businesses and designers. These free hosting options at GoDaddy can be a great way to learn web design or to produce free sites for niche subjects. Free hosting at GoDaddy can also be used for SEO, marketing, blogging, and ecommerce with a PayPal gateway. Just beware that while you control the content on these sties, they do not technically belong to you.
Ease of Use
The reason that the cPanel hosting dashboard is so popular for server management on shared hardware is that it is easy to use compared to other options. Many web hosting users are not comfortable with command-line tools, and cPanel offers a dashboard that can be run through a web browser. Both companies provide cPanel with their hosting plans. The enables even non-technical website owners to manage their hosting accounts and get things done.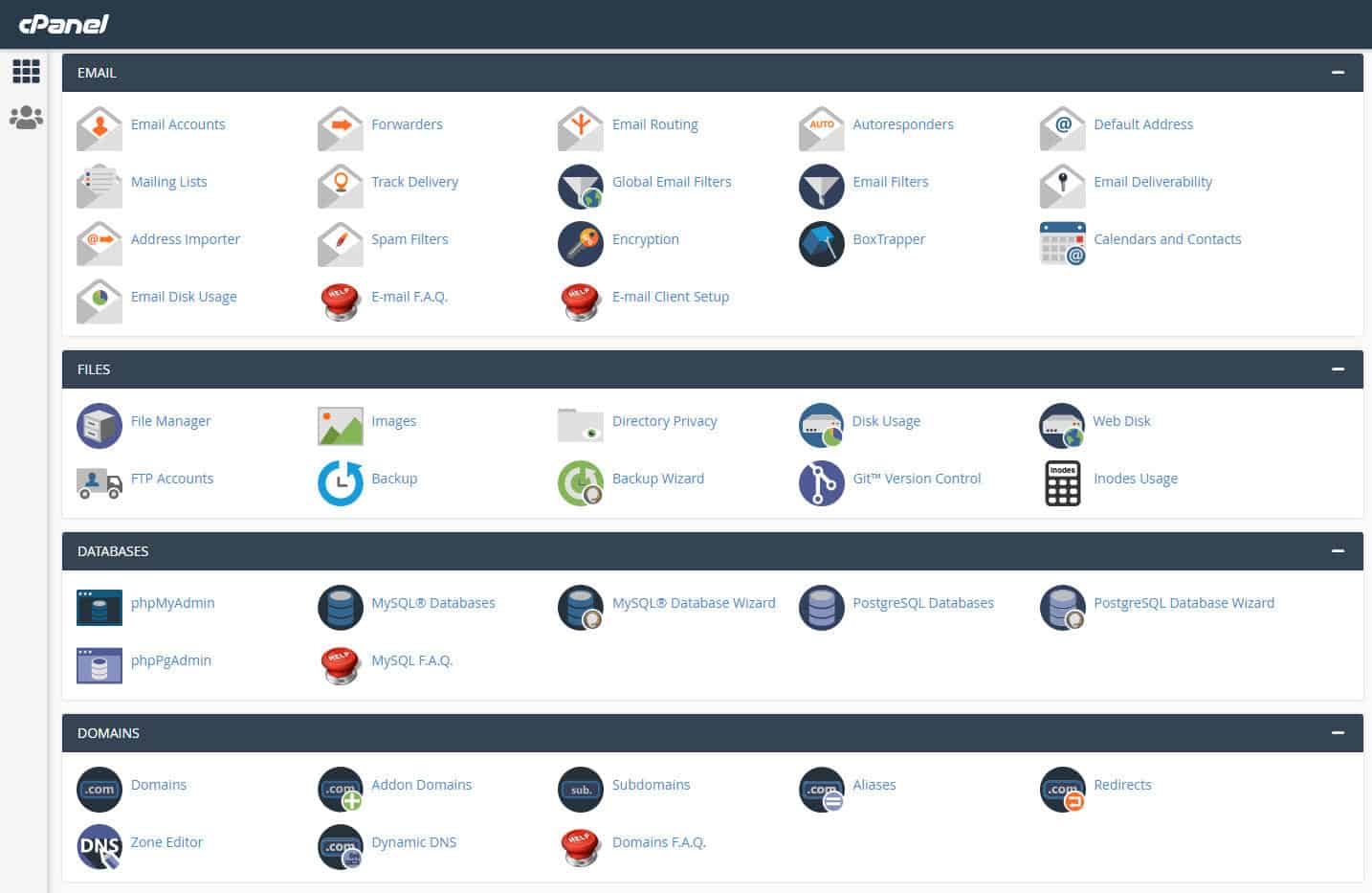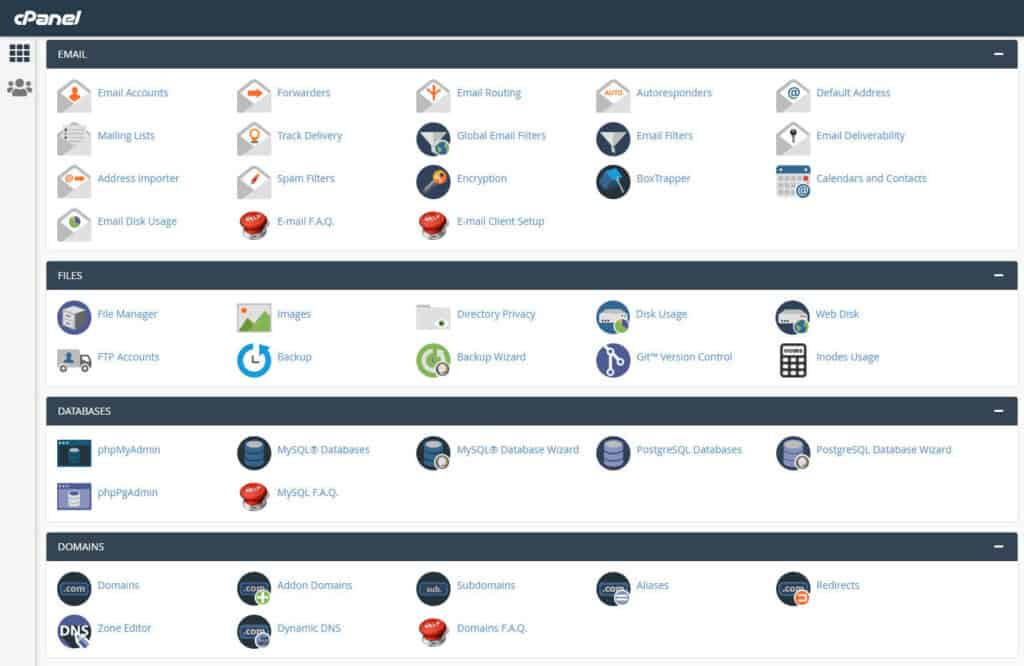 Database Options
With the exception of their Basic plan, Bluehost offers unlimited MySQL database support on their shared Linux web hosting packages, whereas GoDaddy has low limitations on database use across all of their hosting tiers. There are options for Windows and Linux servers with GoDaddy, where MSSQL database support is also offered. With GoDaddy, there is a much wider variety of professional hosting options based on VPS plans that can be used with containers and Docker to support other database formats.
Managed MySQL database support is the biggest advantage of web hosting plans for small business owners and ecommerce websites. Compared to Oracle, IBM, AWS, or Microsoft database costs, the ability to host unlimited domains and MySQL databases at Bluehost is a great deal. With GoDaddy, you get 10 databases with their cheapest account for $5.99 and 100 databases for $19.99 p/month. This is also a great price considering all of the bonus software included in the deal.
Data Center Technology
Bluehost's Utah data center facilities benchmark well historically and the company has a relatively good reputation in service uptime. The Bluehost platform lacks elastic scalability for high-traffic website and mobile app requirements.
GoDaddy acquired MediaTemple primarily for their data center engineering talent, and the publicly listed company has many more options for innovation in the data center than Bluehost. GoDaddy shocked the web hosting industry by abandoning their own data center operations to run most accounts on AWS public cloud hardware. Other GoDaddy services are still run onsite with hybrid cloud facilities. Most GoDaddy plans are not specifically designed for elastic scalability.
Company Background
GoDaddy and Bluehost are two of the oldest companies in the hosting industry. Web hosting can be evaluated by benchmarks on data center hardware and the software resources for web server administration provided by different plans. Bluehost and GoDaddy were both early leaders in making shared web hosting plans available cheaply.
Most individuals and small businesses cannot afford to maintain a data center with fiber-optic connections to the internet backbone. Web hosting makes data center services available at low costs to publishers by utilizing open-source software and sharing hardware resources with virtualization. Load balancing on web server hardware in data centers improves performance.
GoDaddy was founded in 1997 by Bob Parsons and grew to be the world's largest domain name registrar. After Parsons left the company as CEO, GoDaddy merged with MediaTemple and became a publicly-traded company (NYSE: GDDY).
Bluehost was founded in 2003 and grew to be one of the most popular web hosting brands. The company was acquired by EIG in 2010 and is now part of Newfold Digital with Clearlake Capital, HostGator, and Web.com.
In Summary
GoDaddy is a household for domain registration, website building and web hosting. While they have lots to offer customers of all sizes, when it comes to web hosting for smaller websites, they fall short when compared with Bluehost.
As a leader in the low-cost shared hosting space, Bluehost offer plans at a lower cost and with greater value than GoDaddy. The two providers are very similar when it comes to reliability and standard features, but overall Bluehost stands out as the better choice.