We are reader-supported, earning a commission when you purchase through our links. There's no extra cost to you. Thanks for your support! Full disclosure here.
The first step in launching a new website is choosing and registering your domain name. While most people spend hours researching and considering which name to choose, they typically give much less thought to the domain provider they use for registering and hosting their domain name.
While the success of your website is not determined by which domain provider you choose, it's still worthwhile doing a little homework before you make your purchase. Each registrar has different pricing options, technical specifications, supplemental services, and other factors that you should be aware of before signing up. To help our readers make an informed decision, we've compared two of the most popular providers, GoDaddy and Namecheap.
Overview
Serving over 20 million customers, GoDaddy is one of the leading web hosting and domain providers in the world. Their reputation for reliable services, as well as their controversial marketing campaigns, have helped them become a household brand.
While they are first and foremost a domain name registrar, they offer a full suite of additional services for businesses operating online, including:
Website security
Website builders
Online store builders
Web hosting services
WordPress hosting
Email hosting
Domain privacy and security
Digital marketing tools
Email marketing
While GoDaddy is the 900-pound gorilla of their industry, many customers choose to work with Namecheap, one of their leading competitors, instead. Launched in the year 2000, Namecheap is a budget web host and domain registrar that manages over 14 million domains. From day one, their goal has been to offer domain registration services at the best rates. They now also provide their customers with some additional services as well.
Namecheap's offerings include:
Web hosting services
Email hosting
WordPress hosting
Website building
Security certificates
Variety of Domain Extensions
While most people prefer a .com domain extension for their website, the limited supply of available names quickly steers most website owners towards alternative options, such as .co, .org, .net, and many others.
Although these other extensions are certainly less popular, they can also help you with branding your site in other ways. For example, if you run a nonprofit, then a .org domain will actually make your site look more credible. Similarly, if your website exclusively serves users in the UK, then a .co.uk can make you look more relevant to your website visitors.
GoDaddy offers 510 domain extensions, while Namecheap offers 519 options.
When searching through their database for a suitable name, Namecheap gives the option to filter searches by price, extension, name length, and more. GoDaddy allows filtering only by extension category, making it a bit more time-consuming and frustrating to find the right domain name.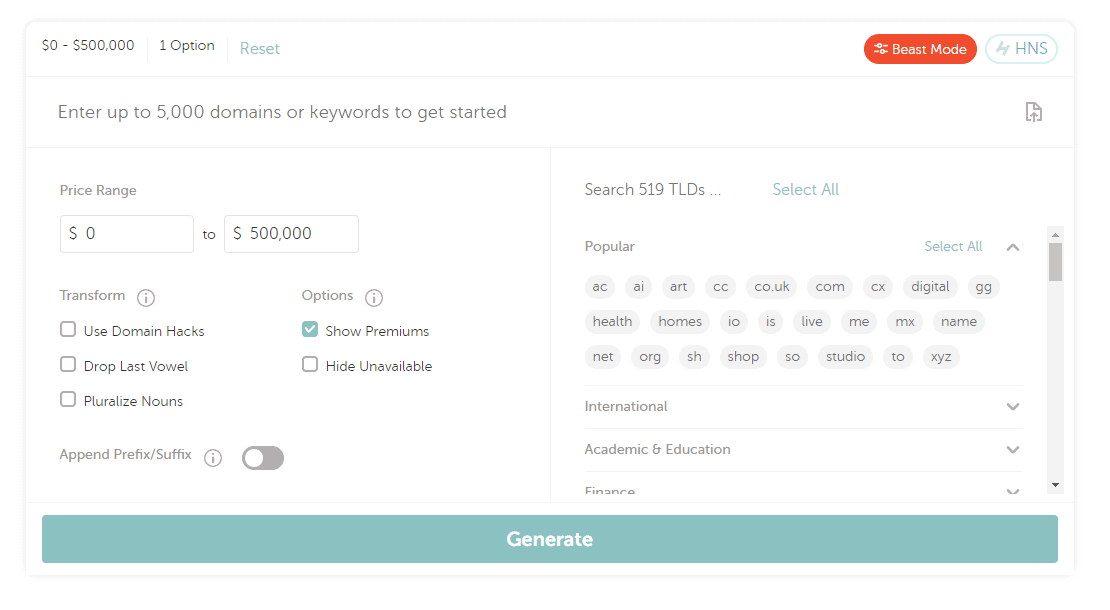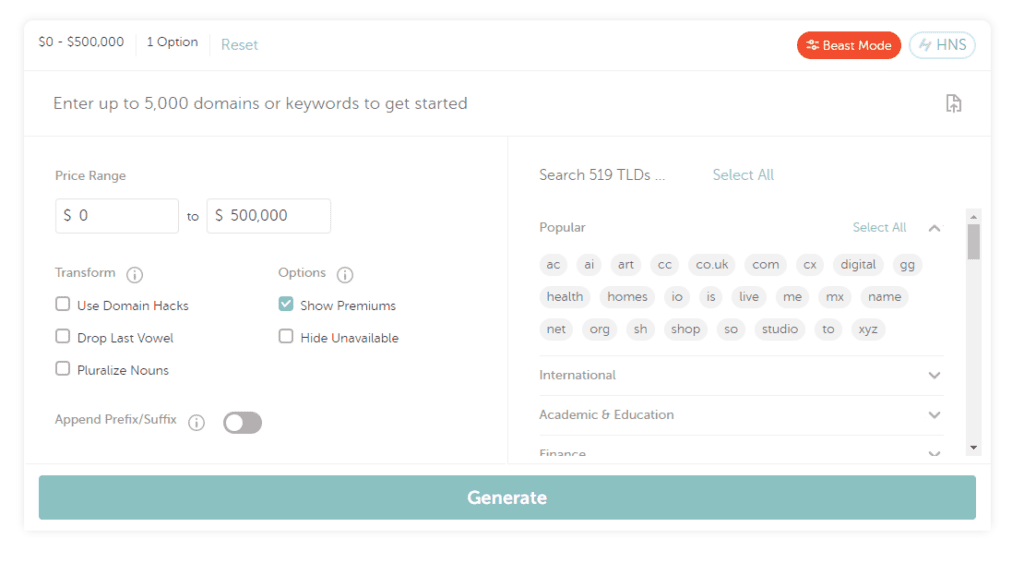 Web Hosting Options
Both companies offer web hosting services that include shared hosting, VPS, and dedicated server packages. If you have a small website, both providers are fine to use. Each one offers Linux and Windows-based hosting, as well as managed WordPress hosting. While we would not enthusiastically recommend the hosting services of either company, there is a nice convenience factor in having your site hosted by the same provider you use for your domain. It saves a few steps in the setup process and makes things simpler, especially if you're not technically savvy.
The two companies are comparable for hosting smaller sites as their differences mainly boil down to pricing. GoDaddy's shared hosting plans start at $5.99 per month, while their WordPress packages start at $6.99 per month.
However, Namecheap has shared hosting packages for as low as $1.43 per month and WordPress hosting plans starting at $4.88 per month. For a company that prides itself on providing its customers with the lower possible price, they certainly deliver.
It should be noted that if your site will include lots of heavy, multimedia files and be receiving many thousands of visitors, you will likely need to upgrade to VPS hosting or dedicated server plans. We would not recommend either of these providers for these types of hosting packages. It's simply not their focus. However, you can start with a shared hosting plan with one of these providers and simply upgrade to another high-performance hosting company when the time comes.
Variety of Premium Domains for Sale
If you're looking to purchase a premium domain name, meaning a domain that's more memorable and has already been registered, you can find a massive database of domains for sale at both providers. So, you should ideally check both GoDaddy and Namecheap to see which premium domains each one has to offer that might be a good fit for your website.
If you're looking to invest a large amount of money in a domain name, or are thinking of buying many premium domains that you plan to resell for a profit, then GoDaddy will give you access to professional tools that Namecheap does not have, including domain cash parking, domain appraisals, and brokerage services.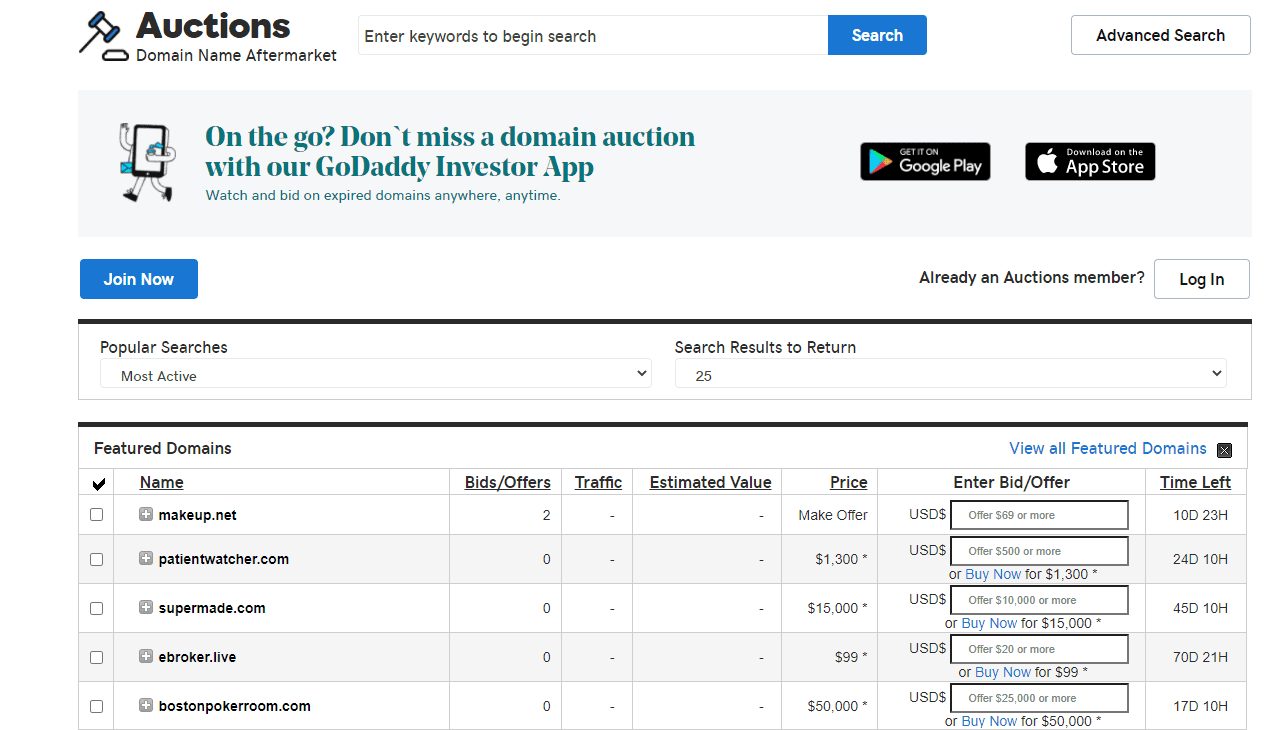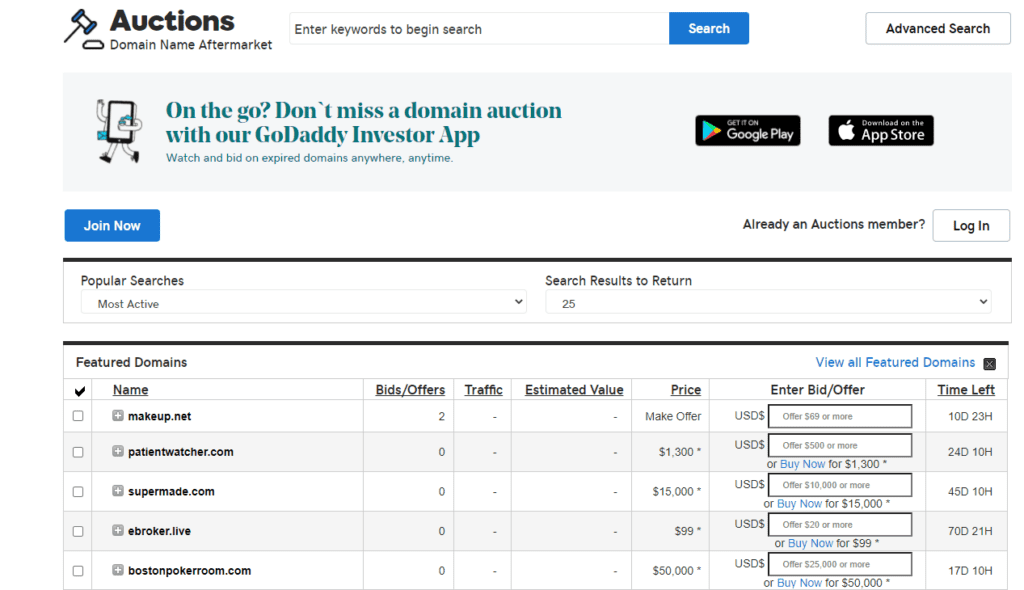 Pricing
GoDaddy and Namecheap both have variations in their pricing models due to seasonal promotions and discount offers. Their pricing also differs for new domain registrations, domain renewal, and domain transfers.
Before registering, you should consider the period for which you are registering because longer registration periods have lower yearly prices.
As of this writing, below are the current yearly prices for domain registration for 1 year:
| | | |
| --- | --- | --- |
| | GoDaddy | Namecheap |
| .COM | $11.99 | $7.98 |
| .NET | $14.99 | $9.98 |
| .ORG | $9.99 | $7.98 |
| .CO | $11.99 | $3.98 |
| .CO.UK | $11.99 | $5.98 |
As their name suggests, Namecheap is clearly the place to go if you're looking for a good deal.
Add-On Features
In addition to domain registration, both providers offer add-on services that you can bundle into your plan when you sign up. These services make it easy and seamless to get started with the tools you need to launch your website.
GoDaddy Ad-Ons
Domain protection – from $9.99 per year
Email hosting for your domain email – from $1.99 per month
Web hosting plans – from $5.99 per month
Domain privacy protection – Free
Website builder and hosting packages – from $6.99 per month
Namecheap Ad-Ons
Domain SSL (security) Certificate – from $4.98 per year
Web hosting plans – from $1.43 per month
Email hosting for your domain email – Free
Domain privacy protection – Free
As mentioned above, GoDaddy offers many more useful supplemental services for website owners. However, Namecheap offers many of the core services you need for launching your new website, and at a much lower price.
Customer Support Options
When it comes to maintaining your website, it's essential to have proper support to resolve issues quickly. Both Namecheap and GoDaddy offer support in multiple forms.
The main downside of Namecheap is that they do not offer phone support. If you are a person who needs to talk to a human to resolve any issues, then Namecheap is not the option for you. However, they do provide live chat, which is available 24/7. Besides that, they have a community forum, basically like an FAQs section where you can find answers to almost anything issue you're having.
If you want options, such as 24/7 support over the phone, live chat support, video tutorials, or even a forum to address, then GoDaddy is the better option. You should note that the support over the phone is only restricted to a few selected countries including the UK, USA, Australia, and Canada. GoDaddy's chat support is available only on weekdays, and their phone support is available only during pre-defined hours.
Although GoDaddy has more options for support, it has its limitations as the wait time can be up to 20 minutes, based on our testing. On the other hand, Namecheap's support is available 24/7.
The Verdict
If your priority in choosing a domain registrar is getting the best deal, then Namecheap is easily the better option. Not only is domain registration much less expensive than with GoDaddy, but all of their add-on services are far cheaper as well. As far as we could see from our research, their services were in no way inferior to GoDaddy.
On the other hand, if you're looking to purchase domain names for thousands of dollars, and hold them as an investment, or if you're comfortable paying a premium so that you can have every imaginable service you'll need for your new website, all in one place, then GoDaddy is the better choice for you.