We are reader-supported, earning a commission when you purchase through our links. There's no extra cost to you. Thanks for your support! Full disclosure here.
There are hundreds of different website extensions available globally including .com, .org, .net, .edu, .biz, and even .xyz. On top of that, there are even country-specific domain extensions such as .us for the United States, .co.uk for the United Kingdom, .it for Italy, and .jp for Japan, but two rise above the pack for credibility; .com and .org.
Domain name extensions are used at the end of website names to categorize them by type, location, and purpose. The domain extension is the part of the website address that comes after the period. For example, in the address www.mywebsite.com, "mywebsite" is the domain, and ".com" is the domain extension.
There is no verification process for the type of domain you register, anyone can secure the extension of their choosing, and it's up to you to pick the best one when booking your name.
Buying a domain name can be pretty frustrating since other people have already registered many name and extension combinationsand are no longer available. This leads some businesses and organizations to make the mistake of using a less common extension like a .biz, but those can look like spam and turn away potential site visitors.
You'll probably run into .net and .co websites pretty regularly. They are more common than most of the other less popular options, but they're still just not as credible, so for this comparison, we're not going to consider those options.
So how do you decide on the right domain extension? I'm going to simplify the decision-making process by helping you determine whether you should choose a .org or a .com extension for your website by exploring when each is the better choice.
The Difference Between .Com and .Org
The main difference between the two options is in the type of sites they are usually used for. The most popular is obviously .com. In fact, it's reported that 51% of websites are registered with a .com domain extension. A .com extension is short for "company," and the site using it is assumed to be a business operating for profit.
The second most well-known and trusted domain extension is .org. Short for "organization," and most often used by nonprofit organizations.
Who Should Use Each Type?
Choosing between a .com and a .org domain extension is a relatively straightforward decision. First, ask, "What is the purpose of this site?"
While there aren't any hard rules, there are some basic expectations from internet users that you should keep in mind. Users often assume that a .com is registered to a business and a .org to a nonprofit. Of course, there are exceptions and some .org sites are proper businesses while some .com sites are nonprofits. But why confuse your website visitors when you don't have to?
Most businesses choose a .com (or .co.uk in the UK) extension to show their credibility and demonstrate their company's legitimacy. This helps users understand that a business runs the site.
Nonprofit organizations usually choose a .org domain extension so that potential visitors understand the site will provide free information and resources, like a public library or Wikipedia.org. A .org site can also signal to a user that the website serves its visitors without profit.
If Your Domain Name and Extension Aren't Available
Since the majority of websites use the more common domain extensions, there's a chance that the name you want is no longer available. In this case, you might be tempted to register with a different extension. Still, you should first consider if there's a way to modify the name of the website. For example, if the name of your organization is Helping Kids, and the domain Helpingkids.org is not available, I wouldn't run to try and register the .com or .net versions. You're better off going with helping-kids.org or helpingkidstoday.org. With a little creativity, you'll figure out a way to make it work.
People are forgiving when the brand name and domain do not exactly match. On the other hand, if you're a nonprofit with a .com extension or a legitimate company with a .org extension, your credibility will probably come into question. If possible, it's a good idea to select and purchase your domain name when deciding the name of your business or organization so you can be sure to choose a name that has an available domain.
When you're looking for a domain name, it helps to have a domain availability checker at your disposal. Check out the one below, courtesy of Bluehost.
Marketing & SEO
From a marketing perspective, a .com website extension can have some advantages. First, a .com is the most popular and most trusted by consumers.
Users expect most sites to be a .com, and when they're not, it can draw unnecessary attention away from your message and cause people to doubt your business's legitimacy. Websites using other domain name extensions like .biz, for example, are viewed as low-quality by comparison.
Since many users view the more common .com and .org extensions as being legitimate, they are more likely to click on sites that have them in the search results. That can lead to search engines ranking them higher and increasing their SEO traffic.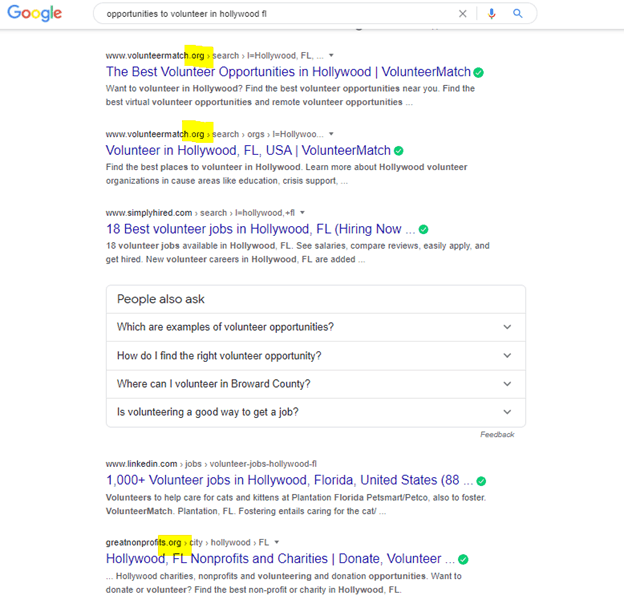 Also, many mobile device keyboards offer an automatic .com button for easy entering, making them a bit more mobile-friendly for "type-in" traffic than other domain extensions.
Costs and Providers
Website domain names are purchased via domain registrars like Godaddy and Namecheap.com. These providers allow you to register your domain and host it on their servers. Another option you have is to register your domain with your web hosting provider. Some of the popular, low-cost hosting providers such as DreamHost, BlueHost, and HostGator offer free domain registration for 1 year when you sign up for their web hosting plans.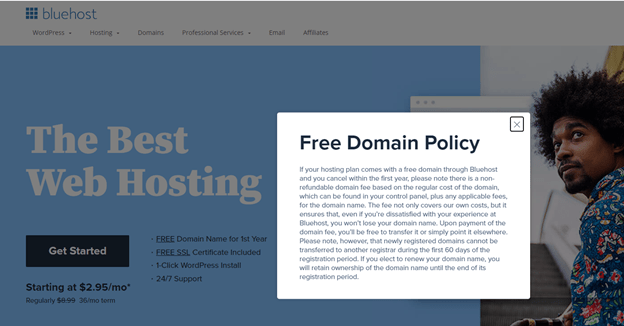 The cost of registering a new domain name depends on the popularity of the extension, with .com and .org domains being among the most expensive. They usually cost around $10-12 per year, but they run special promotions pretty often that can save you a few dollars. If you buy one of the less popular extensions, such as .xyz, you can expect to pay around $2.
But, you should be aware that these are introductory prices. When it's time to renew the registration, the cost will be somewhere around $15 to $18 per year, even for domain extensions no one's heard of.
If you have the budget for a premium domain name, meaning a valuable domain name that's already been registered by someone else in the past, the cost will be on a whole other level. Premium domain names can cost hundreds and sometimes, millions of dollars. These are usually purchased through brokers, very often via online auctions. On these marketplaces, you'll find that .com premium domains will be worth much more than their .org counterparts.
Bottom Line
In summary, when choosing between a .com and a .org domain extension, it's essential to understand your site's goal and select the extension that best serves what you are trying to accomplish.
If you're having a hard finding the right domain name for your website, crowdsource it! In the comments section below, enter the name you want, and I, along with the amazing community of readers of this blog, will do my best to help you find a creative name that represents your vision.