For nonprofits, getting users to take an interest in your cause and visit your website is hard enough, but getting them to donate or volunteer can sometimes seem nearly impossible. Maximizing your conversion rates requires testing new design elements aimed at better engaging with your users. While doing this on your own can require many hours of design and web development work, there are some great tools available that do almost all of this for you. They allow you to use professional landing page templates and edit them using drag-and-drop editors that require no coding skills.
In this post, we will go over examples of the best landing page builders for nonprofits. We'll cover their pricing, features, template options, and ease of use.
Top Landing Page Providers:
Converting visitors into donors requires having compelling text, images, or videos that help bring your story to life, and clear calls to action. While you may be inclined to write 2,000 words of text about how great you are, most people are not interested; they want the abridged version. If you overload them with information and distractions, you risk losing their attention. While this information does serve a purpose on your website, when it comes to ad campaigns from email marketing, social media ads, search ads, etc., you need to keep your page clear and concise.
That's where landing pages come in. A landing page is a solo web page created for one topic. It's where visitors "land" after they click a link in an email, social post, or digital ad. Landing pages supply information and a persuasive offer or reason for visitors to take the desired action. Not only that, but they also feature calls to action (CTA's) to make taking that action very quick and easy.
In the past, building landing pages used to be time-consuming and require technical skills that many marketers didn't have. Not anymore. Landing page builders make it much easier.
What Is a Landing Page Builder?
Landing page builders are subscription software for creating landing pages. They use simple drag-and-drop technology, so you don't have to code to build professional-looking web pages.
These tools come with many templates, features, and options and integrate with other digital marketing tools. For nonprofits who often work under strict time and budget constraints, landing page builders can be invaluable.
Features of Great Nonprofit Landing Page Builders
We've chosen each of the landing page builders below for the qualities and features that we find to be most useful to the average nonprofit organization. Each has its strengths and weaknesses, but meets some essential requirements:
Easy-to-use
Fast loading with no lag
Multiple, relevant design templates
Allows design customization
Integration with other marketing tools
Why Nonprofits Should Use Page Builders
Landing page builders are essential for nonprofits. They can help save time and money while increasing conversions as compared with regular web pages. For nonprofits who don't always have big teams or budgets, this is priceless. Instead of sending donors to a page full of distractions, landing pages help trim down information for one goal: converting your visitors.
These tools don't require help from a web developer and have various design templates and images. The ones we selected include templates that are relevant to nonprofits. What's more, they come with practical resources and analytics to help continuously optimize and increase your conversion rates.
Great nonprofit landing pages include:
Stories about the cause that enable the donor to see the impact of their contribution
Social proof that showcases the amounts raised in the past or endorsements from well-known people
A sense of community around the cause that includes the donors as "partners"
Top Landing Page Builders for Nonprofits
Unbounce is among the most well-known landing-page tools on the market. It's popular because of its ease of use for beginners and its customization options for advanced users.
The tool features:
Drag-and-drop page builders
100+ customizable templates
Optional JavaScript and CSS
Pop-ups and sticky bars
AI-powered optimization tools for A/B testing pages
Various integrations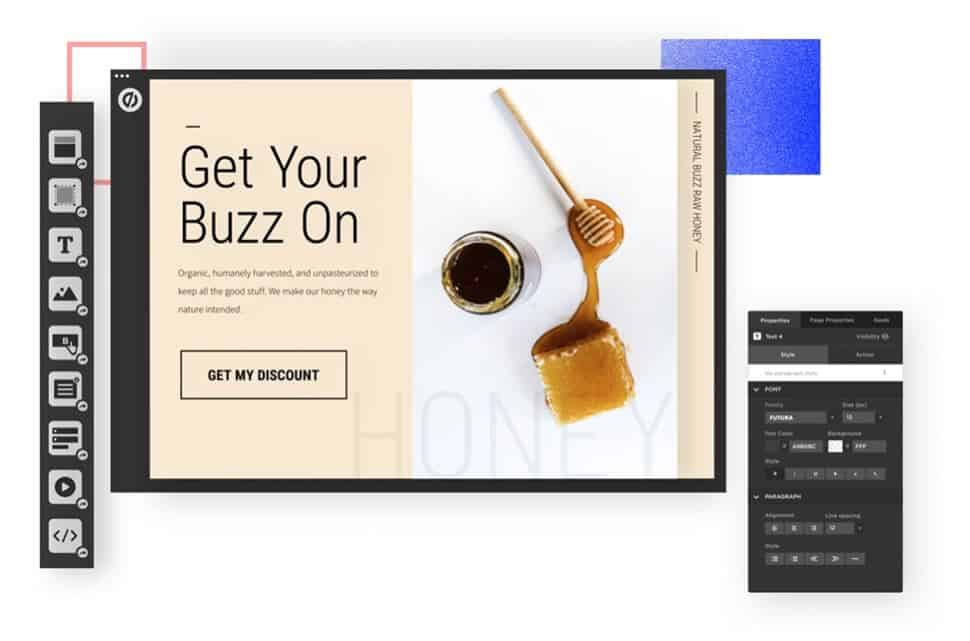 One standout feature Unbounce offers that you won't find with others is Dynamic Text Replacement. DTR allows users to replace landing page keywords based on the user's search query. The landing page will automatically change some of the elements to match more closely and increase conversion likelihood.
For example, if the user searched for a nonprofit to "feed the hungry," the page could change from "providing food" to "feed the hungry." Instead of creating dozens of individual landing pages, you can simply input keywords, and the pages self-adjust.
Competition for nonprofit dollars can be fierce. Having a highly relevant landing page can make a difference in securing the donor.
Unbounce also uses artificial intelligence in matching users with the most relevant version of your landing page. Their proprietary technology, called "Smart Traffic" accesses visitor attributes to show them the most relevant version of the page.
Users can track analytics and visitor stats with the user dashboard or connect Google Analytics with their accounts.
Pricing: With Unbounce, subscribers at any level receive all features. The cost goes up for the number of landing pages, visitors, and domains you plan to have. They offer a free 14-day trial. After that, the monthly cost ranges from $80 to $300 for a monthly subscription or $72 to $270 for a yearly commitment.
Landingi is a popular entry-level tool that's comparable to Unbounce at a lower cost.
It comes with:
Drag-and-drop editor
300+ templates
Mobile pages
Pop-ups and funnels
They have all the standard integrations, including tracking pixels, stats, Google Analytics, and A/B testing. Additionally, they have a tool called "Smart Sections."
With Smart Sections, you're able to create reusable section blocks. A section can be any part of the template – a header, signup form, or footer. So, if you want to use the same element across pages or make a universal change, it's easy to do.
Pricing: Unlike Unbounce, they offer unlimited landing pages, traffic, leads, domains, and users at their entry rate. Smart Sections, A/B testing, and the full suite of integrations, however, are not available at the entry-level price. They offer a 14-day free trial. After, the monthly cost is from $88 to $199 for a monthly subscription or $55 to $150 for a yearly commitment.
The Instapage value proposition is speed. They hang their hat on having the fastest page editor and page load times. In digital advertising, when speed is paramount to converting visitors, it's not a bad feature. But, it comes at a cost.
The tool comes with:
Fast, easy-to-use page editor
500 templates
Reusable page blocks
Heatmaps
A/B and multivariate testing
Dynamic audience targeting
Robust analytics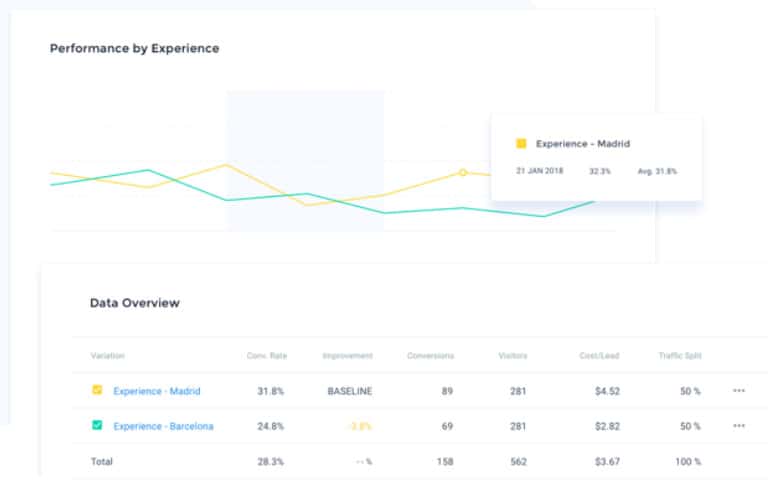 The Instapage editor stands out with its template design grids and markers that autoformat as you move elements. Other platforms confine users to rows and grid structures. The Instapage page builder supplies a customized look by allowing users to move blocks anywhere on the page.
Their "Instablocks" allow you to build a library of reusable blocks such as text, headlines, or imagery. You can use these on any landing page, which is especially helpful if you're building multiple pages.
As part of their speed proposition, Instapage offers what they say are the fastest landing page load speeds in the industry. This includes their proprietary "AMP & the Thor Render Engine," which increases page load time.
Pricing: They offer a 14-day free trial. After that, they offer only one plan for a $199 monthly subscription or $149 per month with a yearly commitment. Another option they offer is a bespoke program, with lots of extra features. This is priced according to the individual user's needs.
Leadpages provides multiple uses in one tool. More than just landing pages, you can also build websites, pop-ups, alert bars, and even Instagram link pages. Most notably for nonprofits: you can add checkout forms and a Stripe account to process payments on pages.
The tool comes with:
160+ templates
Popups and exit intent
SMS text capabilities
A/B testing
Reusable section blocks
Widgets toolbar that enables easy-add videos, images, forms, and more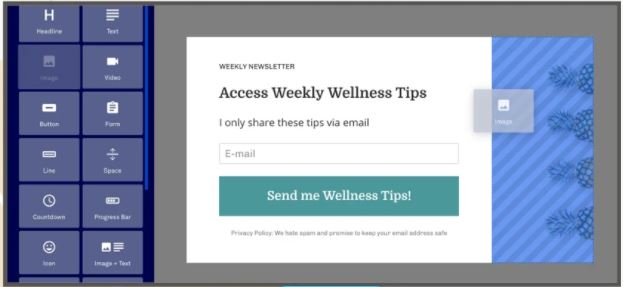 The Leadpages editor makes editing pages easy by fading sections you're not actively working on. It also positions a floating panel next to the one you're editing.
If you're interested in multiple features besides individual page-building at an affordable price, Leadpages gets our vote.
Pricing: They offer a 14-day free trial. After, the monthly cost ranges from $37 to $321 for a monthly plan and $27 to $239 for an annual commitment. The entry-level plan, however, doesn't include all the features that make this tool so robust. You'll need the mid-tier plan ($59/$79) to get A/B testing, checkout, and payments, and SMS text features. It's still a bargain and a great choice for nonprofits.
In Summary
The most important factors in deciding on a landing page builder are understanding what you'll use it for and how much you can spend. Decide which features are mandatory and see what the tool will cost you to get all you need.
Many of these tools have far more features than most nonprofits will use. Be discriminating and selective in deciding what a is must-have and what is nice to have.
In summary, the industry standard is Unbounce, and you can't go wrong with that choice. However, if budget is a constraint, Leadpages is a robust, easy-to-use, affordable option. If one of the other brands listed above seems more your speed, you should feel perfectly comfortable choosing them as well as they are excellent tools.