You may have heard rumors about a little-known program Google runs for non-profit organizations. Officially known as Google for Nonprofits, it's great for cash-strapped organizations, but there's plenty of confusion on what it includes and how to apply.
This post will tell you exactly what Google for Non-profits is, what the eligibility restrictions are, and help you decide if it's right for your cause. So without further delay,
What is Google for Nonprofits?
Generally, Google for Nonprofits is a free program where Google gives away premium services (like $10,000 a month in Ads credits and custom G Suite accounts) at no cost. For organizations that qualify, Google for Nonprofits gives access to a collection of premium apps that might otherwise be too expensive for NPOs.
Google Ad Grants is perhaps the most popular program in Google for Nonprofits, where Google gives nonprofits $10,000 a month to spend on advertisements in Google search results via the Google Ads platform.
Regardless of how much time you have to spend on using the applications, it is well worth applying. Many of the products continue to amplify your non-profit's work, even if you forget about them after the first set-up. But don't take my word for it—let's dig into what Google for Nonprofits can do for you.
What features does Google for Nonprofits have?
Listed below is a breakdown of each of the products included in the Google for Nonprofits program, listed in order of "most widely useful" to "useful in a few cases". Each piece is powerful in its own way, so the best way to evaluate them is how relevant it is to your NPO.
Not all products are available in all countries. Check the list here.
G Suite for Nonprofits (Google Workspace)

First up is G Suite (the for-profit version of this for businesses is now called Google Workspace). If you have a Gmail account you're probably familiar with what G Suite offers; it's essentially the enterprise version of Gmail. Since every non-profit uses email, documents and spreadsheets, I rank this as the most widely useful app in Google for Nonprofits.
What it gets you:
Unlimited Gmail accounts that end in @yourdomain.com, vs @gmail.com
Google drive, docs, sheets, slides, etc. All those fun little apps
30GB of space (up from 15 in personal accounts) for Drive documents and email hosting
24/7 actual person support via phone, chat and email
Admin access over all your organization's accounts
Biggest potential use:
We all know how useful Google docs are, but I think Google hosting the data while giving you full control is the best feature of this product. This frees up space on your server, and you can auto-archive emails after a certain period to automate ongoing maintenance. But most importantly, this all gives your organization control over its data.
I've seen several organizations auto-forward their emails to personal Gmail accounts because they're familiar with the interface. While this works fine initially, it eventually brings up concerns about confidential information. If an employee leaves on bad terms, you can't get your organization's emails back from their personal Gmail! Creating emails with Google Worskpace gives users the familiar Gmail UI, while keeping your Nonprofit's data inside the organization and allowing your nonprofit to look more professional. And now with Google for Nonprofits, cost is no excuse for making sure your NPO is secure because you get Google Workspace for free!
Other ways to maximize this resource:
Keep all of your organizations documents in Google Drive so you have control and access to everything.
Use Google Meet for your organizations meetings and share your screen while you are presenting. This feature had become essential during the Corona pandemic where many organizations started working remotely.
Cost savings:
$3 per person per month compared with the paid Business Standard account, or $5.04 per month for the Business Pro account. If you also take advantage of Google Drive, this could also save your organization from having to pay for something like Dropbox for all of your documents and files.
Google Grants (Google Adwords)
Overall I think Google Grants is the most powerful of all the apps in Google for Nonprofits, because Google is literally giving you $10,000 a month to spend on fundraising via pay-per-click (PPC). For those not familiar with PPC, it refers to the text ads you see while searching Google. It falls second in the list because while everyone could use free money, the steep learning curve might scare people away as well as the strict policies of Google to maintain in the program.
What it gets you:
$10,000 / month of free money to spend on pay-per-click advertising.

You must install a Google tracking code to track conversions on your website

Ads are text only for people searching for something, and run only on Google.com, not any search partners or ad networks

There are limitations such as you must maintain a 5% CTR (click through rate) on an account level, and you need to have at least 2 active ad groups per campaign.

The full Google Ads platform to manage and measure your campaigns
Biggest potential use:
Getting people to your nonprofit's website is of course the biggest use for Ad Grants. You can use it to promote your next event, gain new email subscribers, attract people who are likely to donate, or just spread the word about a program you put on. The $10,000 translates into roughly 5,000 website visitors per month!
But more than just boosting your website's stats, the beauty of Google Ads is that you can laser-target specific niches. Go for keywords like "science conventions" to promote your geeky gathering, or try out "volunteer opportunities near me" to recruit some more manpower. The possibilities are truly endless.
Other ways to maximize this resource:
Create content targeted towards topics you want to be an authority about, like "water crises" and use Adwords to noticed in your space.
Install Google conversion tracking on your website so you can track which campaigns, keywords and ads perform the best. Then, once you collect enough data, you can turn on Google automated bidding tools to maximize the numbers of conversions you receive from your campaigns.
Cost savings:
Up to $10,000/month, and it generates donations!
If you're interested in learning more about Google Ad Grants, take advantage of our free consultation.
Grow Your Nonprofit With Google Grants
Sign up for a free consultation from a digital marketing expert specializing in Google Grants. Learn about getting help with setting up and managing your campaign so you can make the most of this opportunity.
YouTube Social Impact Program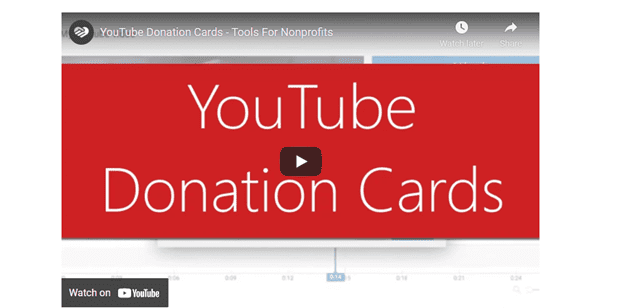 For NPOs that see the value in video, the YouTube Social Impact Program elevates your YouTube channel to the next level and amplifies your donations. It even gives you the ability to plug into YouTube's vast universe of content creators and develop meaningful partnerships. It's definitely more intensive than some of the other apps in Google for Nonprofits, but it's well worth the effort.
What it gets you:
The ability to have "link anywhere cards" on your videos. These are beefed-up YouTube annotations that make your videos an interactive experience and you can send people to an external link (such as your website)
Creator Academy offers lessons tailored to non-profits
ZERO transaction fees on any donations processed by YouTube so 100% of incoming donations will go to your cause
Biggest potential use:
We all know telling your non-profit's story is important to get donors aligned with your cause. So build a process for creating engaging videos for each project your charity oversees! For example, child-sponsor organizations could create a short video per child and include a donation card at the end. This connects the donor with the project, eliminates barriers to giving, and saves your nonprofit the 3% processing fee! Here's a video that describes how cards work:
Other ways to maximize this resource:
Build your subscriber count throughout the year, and connect with Google Spaces to create a grand-slam year-end appeal video. There's not much info on how quickly YouTube Spaces replies to requests, or how selective they are, but the application asks if your channel has over 10k subscribers. It's probably a good idea to reach that goal before applying.
Connect with content creators and authority figures to get them to put donation cards to your non-profit.

Any YouTuber with a solid following has access to these donation cards, and they can link to any eligible organization. Try developing a partnership with an influencer to put a donation card on one of their videos. Google even provides an

outreach toolkit

; it could be a great way to reach a new audience!
Cost savings:
Donations through YouTube will spare you the 2.9% + .30 fee other processors charges plus you can connect to the 1.5 billion people that come to Youtube everyday.
Google Earth and Maps (Google Maps API)
Now this product definitely isn't for everybody, but for the right nonprofit it could really change how you do business. Google Earth Outreach opens up Google's satellite and map data to nonprofits, enabling them to perform international development work like never before.
What it gets you:
The ability to publish Google Maps on your websites
Access to the premium Google Maps API, which lets you plot sensitive information on a map and keep the data internal
Access Google's Open Data Kit, which allows you to link deep maps features in to proprietary software and applications.
Display customized visualizations and layers to show your organizations impact with the Google Maps and Google Earth platforms.
Biggest potential use:
The first thing you see when you go to the Google for Nonprofits website is a case study with Charity: Water. They leveraged the Google Maps API to send donors GPS coordinates of where a new well will be built, connecting donors with a specific project to increase perceived impact. Large, international NGOs could likewise leverage the Maps API to coordinate geographic data.
Other ways to maximize this resource:
Another case study featured on the site describes how an Amazonian tribe learned to use Google for Nonprofits to stop illegal logging in their forest. The tool is so successful they're able to use it for parceling out pieces to sell on the carbon credit marketplace! Likewise, watchdog groups could use Google Earth and Maps platform to stop land-grabs around the world. Many organizations have been really creative in how to use this resource, and you should really read the case studies.
Cost savings:
While the Maps API is a paid service, the cost is probably negligible since you can access 25,000 maps a day for free. The real value is in Google's existing data sets and being able to integrate them with your applications.
Who is eligible for Google for Nonprofits?
Most 501c3's are eligible for Google for Nonprofits, but there are some significant exceptions.
Ineligible Organizations
The following organizations are NOT eligible for Google for Nonprofits:
Honestly, even if you're not sure that you're eligible, it doesn't hurt to apply. Other groups have seen 95% acceptance rates, and the application takes less than 10 minutes.
If you get rejected for some reason, google "Google Nonprofits NTEE Code" to see if the one your NPO falls under is ineligible. You can easily find your NTEE code on Guidestar.
How do you apply?
Check out our comprehensive, step-by-step guide to the application.
The process has changed several times in the last few years, but these guides will always be updated.
Endnote: My take on Google for Nonprofits
The products included with Google for Nonprofits range in usefulness, but you can't argue with free! Two products really stand out to me as god-sends, the first being Google Workspace for nonprofits. It's best practice to keep email hosting separate from the website and to keep confidential information within the company's servers, but this can incur extra costs, especially if you want to use a familiar interface like Gmail or Windows365. Google Workspace solves these two problems for nonprofits, and also ridiculously simplifies them.
Secondly, Google Grants is literally free money. And $10,000 a month of free money. Even if the stipulations force you to be creative to spend it, targeting low-bid, long-tail keywords is actually best practice in the industry, so it's really not that bad. Even if you only create one ad targeting search for your organization's name, a native search result paired with a paid advertisement can increase clickthrough rates dramatically. It's serious low-hanging fruit.
Some people might be scared to rely on Google's goodness, waiting for the day these programs get moved behind a paywall. I had my reservations too, but it's been running since 2009–and even expanded since–so I'm confident in this product for the long-haul. However, Google has added more requirements to maintain in the Google Grants program so you need to be careful about that.
You can't expect things to last long in the tech space, but relatively speaking this program is eternal. So don't look a gift horse in the mouth; go forth and do great marketing!