We are reader-supported, earning a commission when you purchase through our links. There's no extra cost to you. Thanks for your support! Full disclosure here.
If you're trying to figure out how to create a custom email address to match your website's domain name, and want to be able to use the familiar Gmail inbox just like the one you use for your personal email, there are 2 options to consider. Below, we'll outline these options and explain how to implement each one.
Option 1. Enable Gmail To Work With Your Custom Email Domain (Free)
This option, which is free, allows you to enjoy all the great features that come with a regular Gmail account while sending emails from your email domain for free. I should note that this option requires for you to have email hosting, which you may unknowingly already have.
Your website hosting provider may very likely include this with your current plan, meaning you will not have to pay anything extra, so check with them. If this is not the case, you will need to pay for them to provide you with email hosting as an additional service. Once you've done that, you'll sign up for a Gmail account if you don't already have one, configure the emails to work through that account, and enable Gmail to send emails with your custom email address.
You can then immediately start using your new, professional email address for your startup, blog, business website, or nonprofit. Without a doubt, this is your best free option for using Gmail with your email domain. This process may sound complicated, but it's really not, and I will walk you through it below, step-by-step below.
Option 2. Sign Up For Google Workspace (Formerly G Suite)
While the first option will save you some money, I do recommend just signing up for Google Workspace (formerly called G Suite) instead. It's much simpler and more reliable than the first option listed above. In addition to using Gmail with your domain email, you'll have access to tons of extra features that make it easier to collaborate, store documents, share files, and even add or remove user accounts for other people on your team that use your domain name in their email addresses:
For example, I have multiple @thedigitalnonprofit.com emails that I can use depending on the situation, like info@thedigitalnonprofit.com, jason@thedigitalnonprofit.com, etc.
And when I hired a contractor, it took 2 seconds to give them a name@thedigitalnonprofit.com email so we presented a consistent brand
During the contract, I could make files & events shareable with all our employees to easily collaborate
When the contract ended, I could freeze their accounts with 1 click so my info is safe
All of those benefits were possible because I had Google Workspace. They offer a 14-day free trial, so you get a better sense of what it's like to use all their features. In addition, they provide promo codes that help save 10% off for the year.
This promotion is only available for the Business Starter and Business Standard packages. The Starter plan costs $6 per month while the Standard plan costs $12 per month. Aside from the price, the main difference between these 2 plans is that the Starter plan comes with 30 GB of storage per user whereas the Standard plan provides 2 TB. Otherwise, they are nearly identical for most use cases. In general, the Business Standard plan is only worth the extra money if you have many heavy files such as videos and audio recordings that you need to store.
To receive an exclusive 10% coupon for Google Workspace, submit your email address under the plan that's best suited for you.

Get 10% OFF Google Workspace: Sign up Below to Receive Coupons
Enter your email below to get your coupon code! Google requires that we send them individually.
Business Starter Package (10% Off):
Business Standard Package (10% Off):
One last note—if you're a registered nonprofit, you can get Google Workspace at a discounted rate, or even for free through Google for Nonprofits. Regardless of whether you're a nonprofit or for-profit organization, it's best to take the long-term view and sign up to get all of Google's business productivity tools, especially given that can save a few extra dollars by using our Google Workspace promo codes. If you want to switch later, it will be a pain to transfer all your emails to Google Workspace.
Once you sign up for Google Workspace, setting up your email account to use your custom email domain is pretty simple. You can jump to the section below by following this link where I provide detailed instructions.
If you still want to try the free method described in option 1 above, here's how you can use Gmail with your custom email address.
How to Enable Gmail to work with your Custom domain name for Free
I'm going to show you how to set up Gmail so you can use it for free. Using this method, you can send out and receive emails using your custom domain name from your regular Gmail inbox.
When you go to create a new message, you'll just choose which sender account to use. For personal emails, you'll send them using your standard Gmail address. For business emails, you'll just choose your custom domain as the sender. Gmail is smart enough that if you reply to an email, it will automatically use the email address that received the message.

Some things to know about sending emails this way
The Gmail portion of this method is 100% free. However, you will need to have an email host to make it work. If you are already working with a web hosting service, they can most likely provide you with email hosting. If not, you can just sign up with Bluehost to receive low-cost, professional web hosting services.
I recommend them because they are one of the most affordable services on the market. Their plans start at about $2.95 a month, which includes hosting for your website, email hosting, and free domain name registration for 1 year. On top of that, they offer a 30-day money-back guarantee and 24-hour customer support. If you don't need a website but still want an email domain, you can always just purchase email hosting from another provider.
Regardless of which provider you choose, once you have email hosting taken care of, you can use the following steps to help you set up Gmail so it works with your custom email at no extra fee.
In this tutorial, I'm going to use screenshots from the customer dashboard at Bluehost, but this method works with any host. It just will have a slightly different graphical interface. I also included step-by-step directions for several other popular web hosts.
Step 1: Create A Gmail Account
You probably already have a personal Gmail account, and you could use it for your custom email, but I recommend keeping your personal and work Gmail accounts separate; it will make things a lot easier down the road if you upgrade to Google Workspace or Google for Nonprofits. So, if you want to create a new free Gmail account, follow these steps:
Create a Gmail account here and pick a new email address. An address like yourname.organization@gmail.com usually works well.
Follow the rest of the steps to verify your phone number, create your account, and sign in.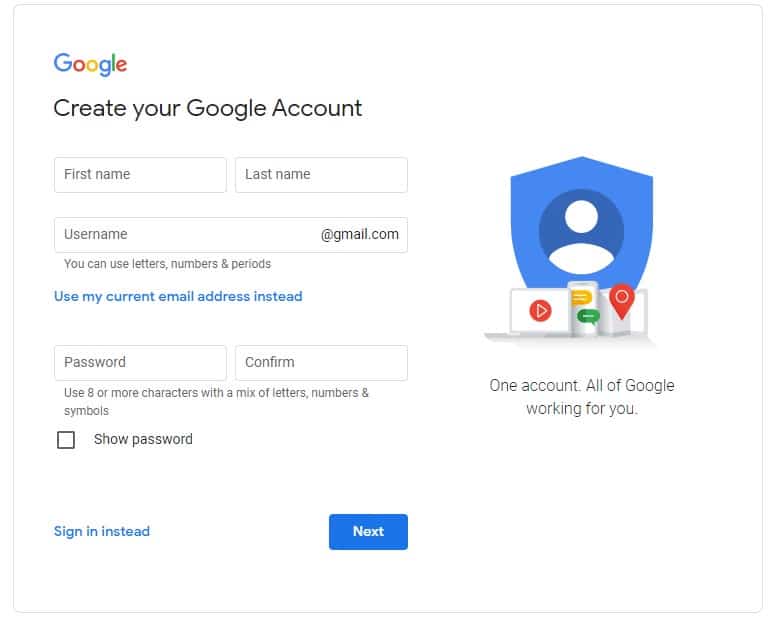 Step 2: Create Your Professional Email Address
If you don't already own the domain name you plan to use with your email, you'll need to purchase one from a domain registrar. If you don't have a website host either, you may as well sign up with Bluehost to receive a free domain name with your hosting account.
With Bluehost, you'll need to create an email account. While it might be tempting to click on the Email and Office button to set up your email account, that will take you to a page where you can purchase Google Workspace. Instead, click the Advanced button on the left navigation menu.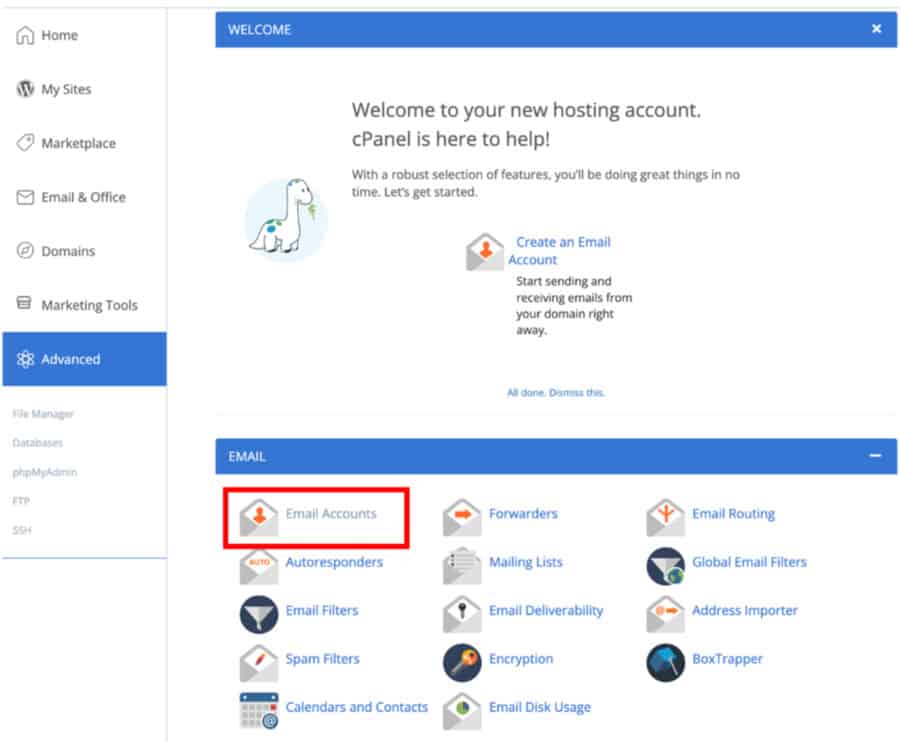 Click on the Email Accounts icon in the email section. A new screen will open with a list of all your existing email accounts. At this point, there shouldn't be anything there.
Click Create to add your first email address


Type in the username you want to use for your email. Remember, whatever username you choose is your email domain. You may want to use your name, or something like Info or Office.
Enter a secure password. You'll need to remember this and use it when connecting to your Gmail account.
Click the Create button at the bottom of the screen.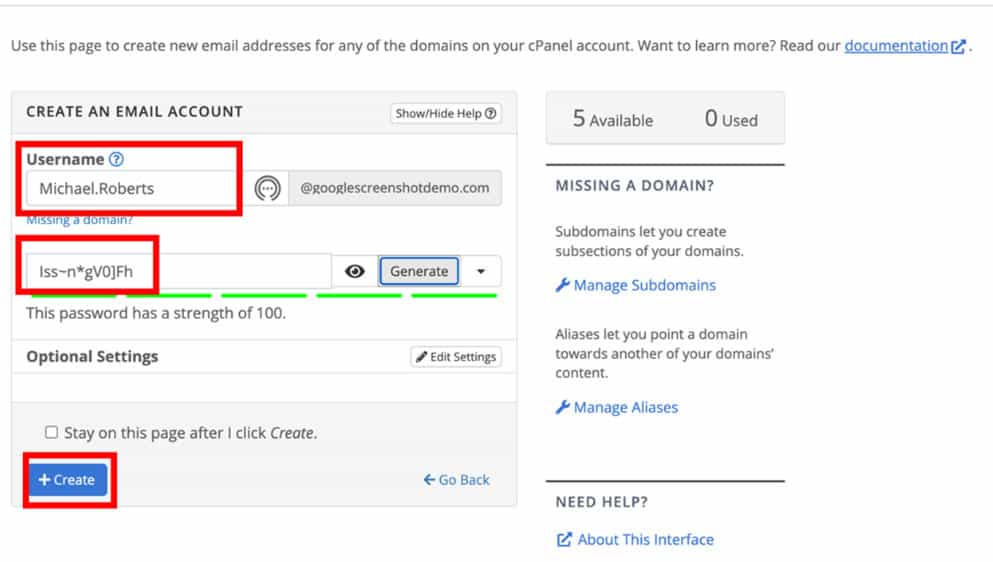 You can create multiple accounts and link them all to your Gmail account. Just repeat these instructions until you are done. When you are finished, you can see all your email addresses in a list.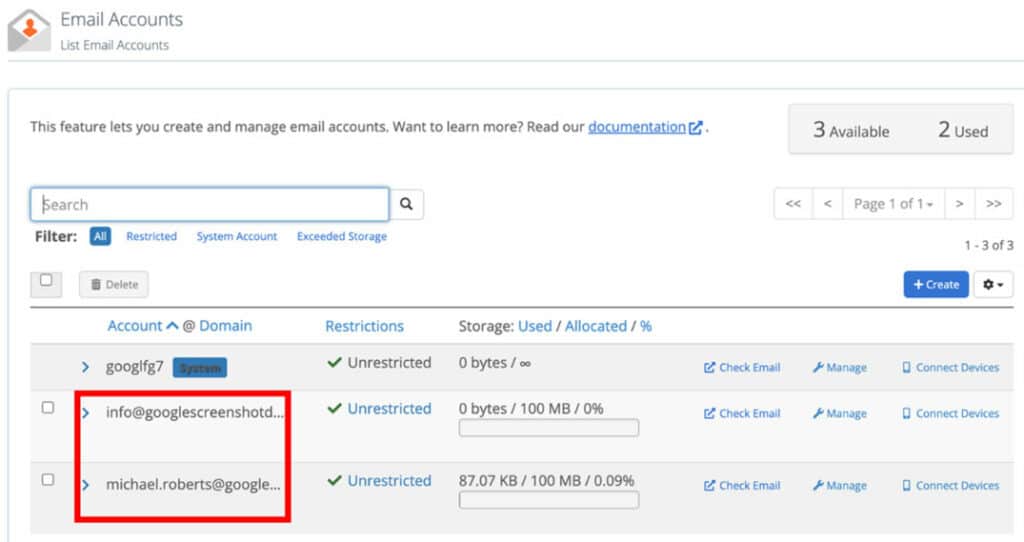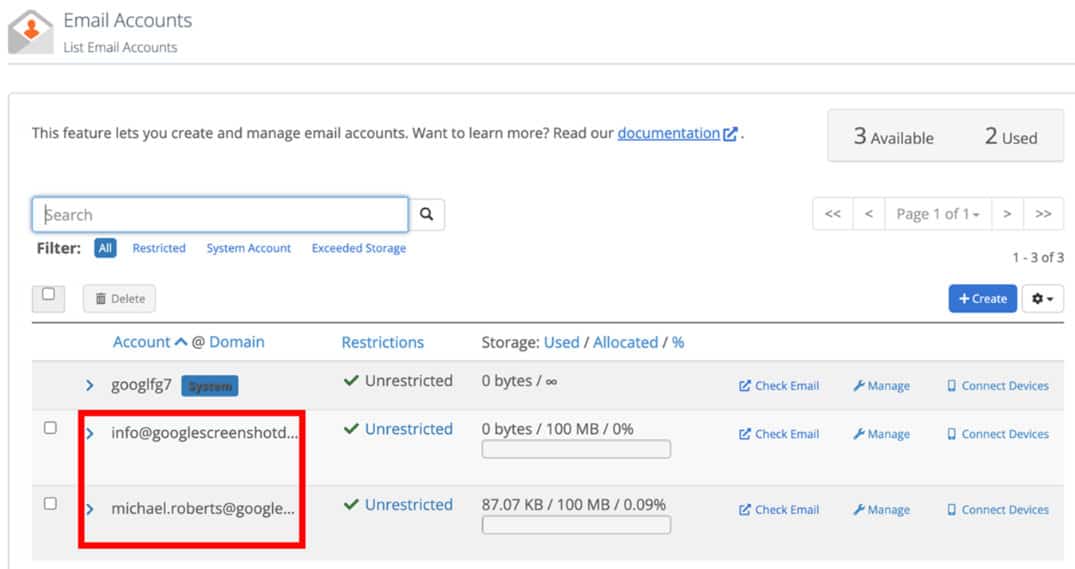 Step 3: Set up Gmail to receive email
There are two ways to receive an email in your Gmail account. You can either use POP3 or email forwarding. While both options work, POP3, where Gmail receives emails directly from the server, is a better solution. Each email can be labeled, making it easy to differentiate between work emails and personal emails. With forwarding, every email goes through the original account and then is automatically emailed to your new address. Below are instructions on how to configure each method.
How to Set up Gmail to receive email using POP3
POP3 sounds intimidating but it's pretty simple. It lets Gmail connect to your custom email address. Your free Gmail account will import email from your email host.
To get started, you'll need to log into your Bluehost account, or whichever provider is hosting your emails.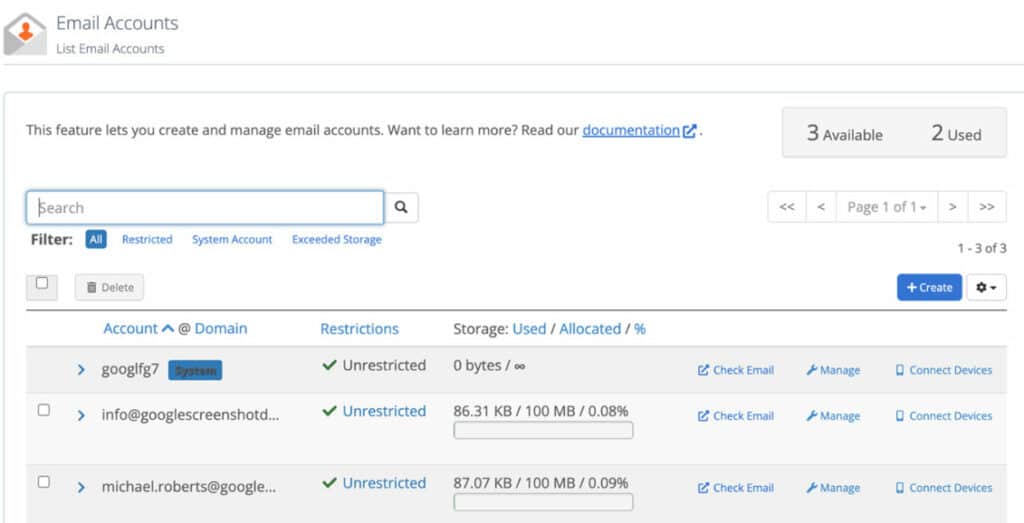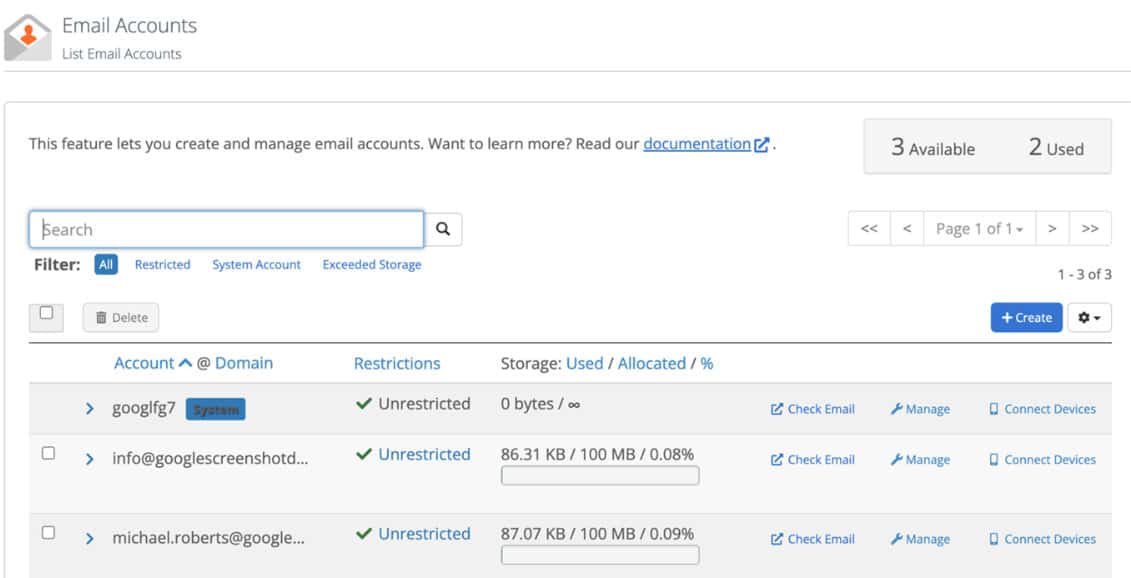 Begin by clicking on Advanced on the left navigation menu, and then choosing Email Accounts. This will open a list of your email accounts.
Click on the Connect Devices on the row of the account you want to see in Gmail.
Scroll down to a section called Mail Client Manual Settings, which includes your username, incoming server name, and POP3 Port. You will need these pieces of information for Gmail.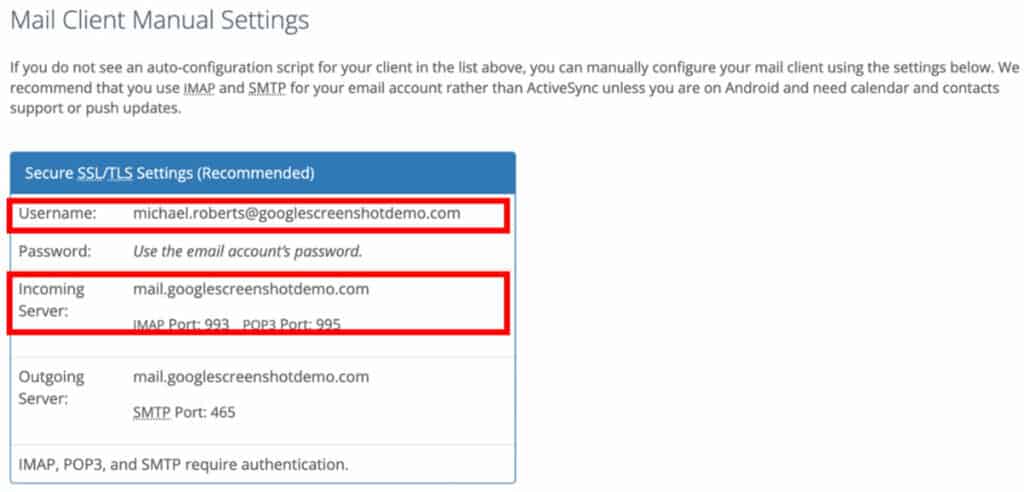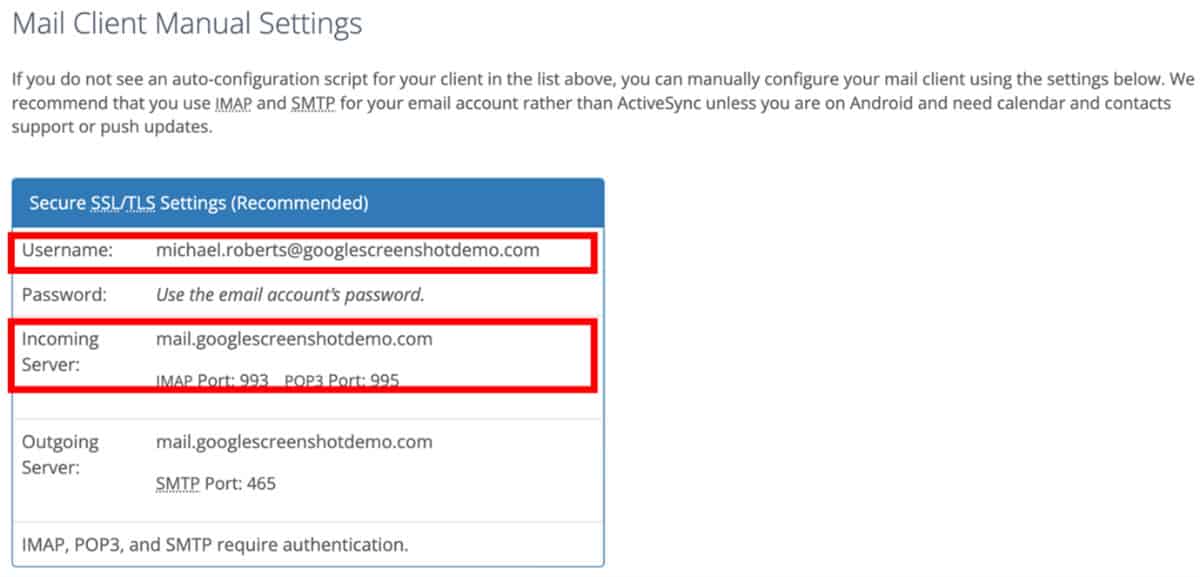 In another tab, open your Gmail account.
Open Gmail settings by clicking on the gear icon on the top right corner and click the See all settings button
Click on the Account and Import tab in the center of the screen
Find the option that says: Check mail from other accounts. Click on Add a mail account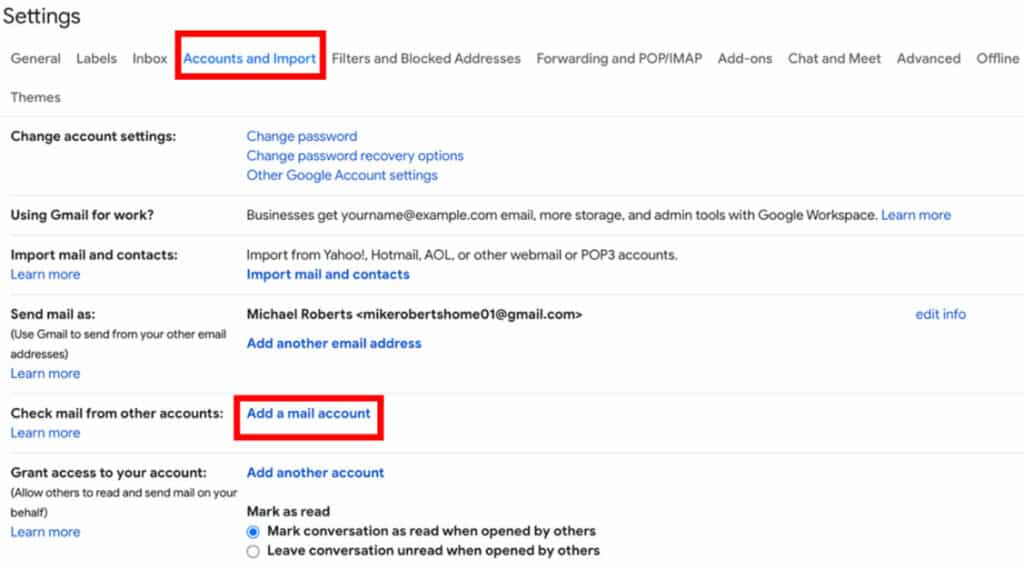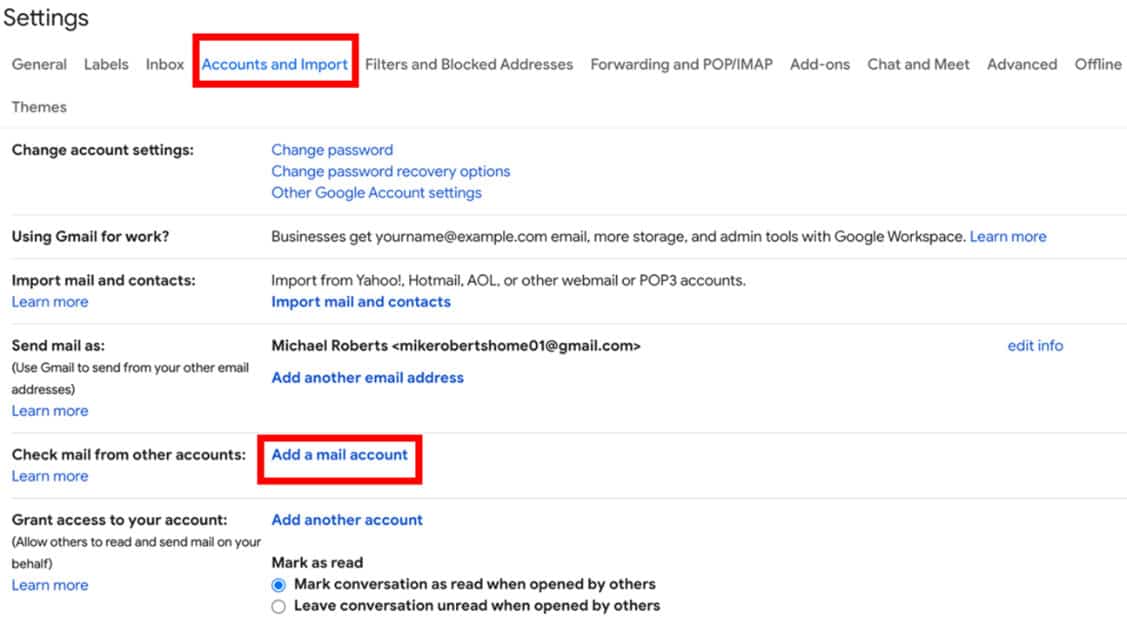 A new window will open, asking for your email address. Enter your new business email address into the window and click Next.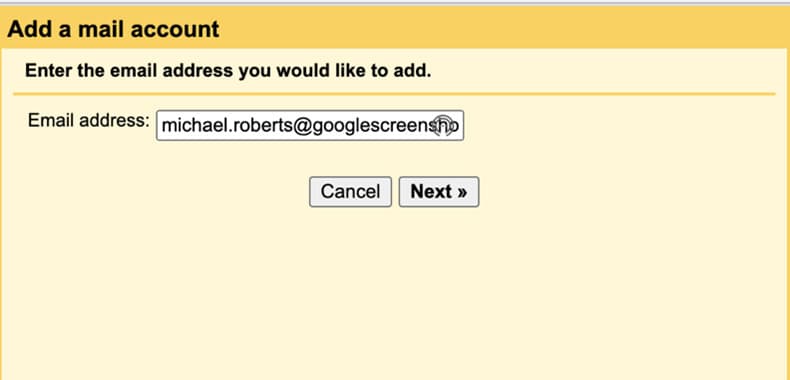 On the next window, click the radio button next to the option to Import emails from my other account (POP3) and click Next.

On the next window, you will need to enter the following information:
Username – This can be your full email address or just the part before the @ symbol.
Password – This is the password you created in Bluehost
POP Server and Port Number – This is the incoming server name and POP Port number from Bluehost.
Check the box next to Leave a copy
Check the box next to Always use a secure connection
Optional – check the box next to Label Incoming messages – This will help you track the source of an email, especially if you are connecting multiple email addresses to one Gmail account. I've labeled all emails as Work email
Click Add Account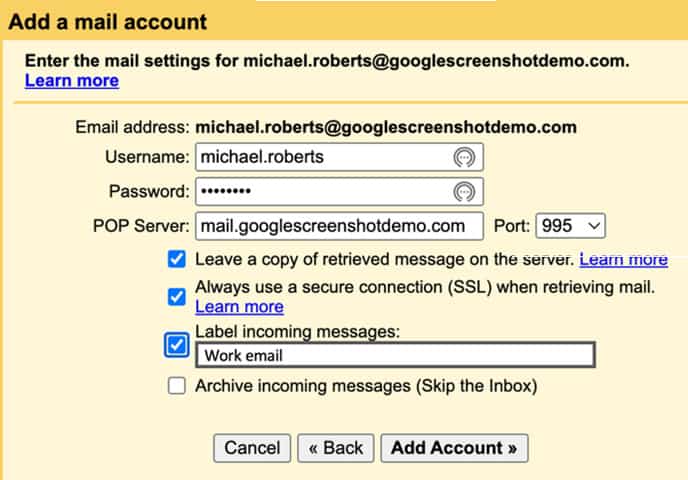 You will see a confirmation that the email account has been added.
You can also see that your Gmail account is checking for email from your work account on the same settings screen we looked at a few minutes ago. To add additional accounts, click the Add a mail account button.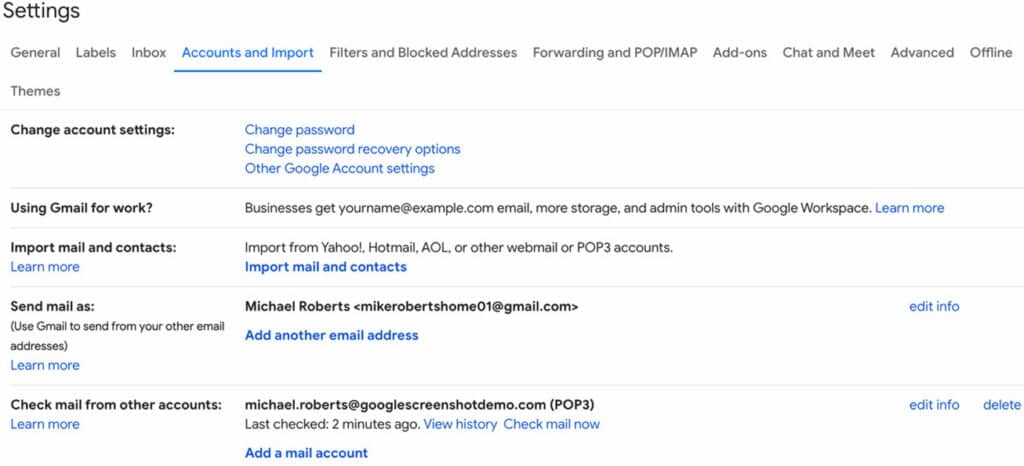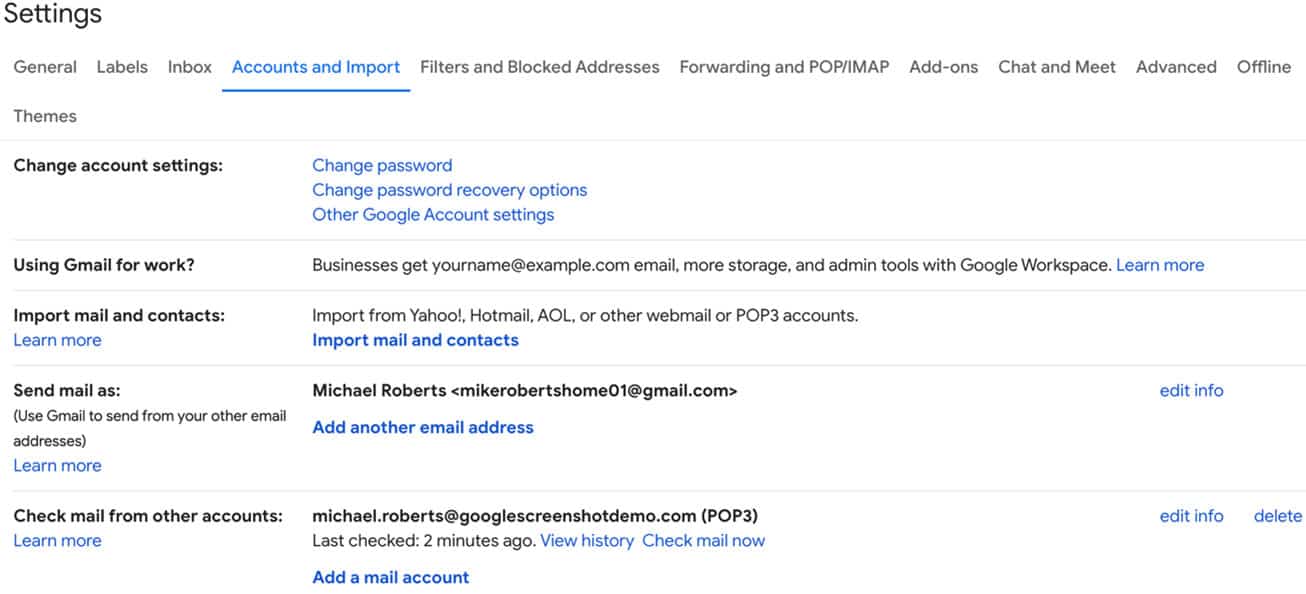 How to Set up Gmail to receive emails via Email Forwarding
As mentioned above, you can either forward emails to your Gmail account or set up POP3. There is no need to do both. All things being equal, I'd recommend setting up POP3.
Below are the forwarding instructions for several different web hosts.
If your host isn't listed: Look at the HostGator instructions–chances are you have the same cPanel admin interface.
If that doesn't work: Your provider might not include email forwarding. You can transfer it to Bluehost for a web hosting package that includes email forwarding. Just sign up with them here, and they will walk you through the seamless transfer process.
Using this Method With Bluehost
Click Advanced on the left navigation menu, and click on the Forwarders icon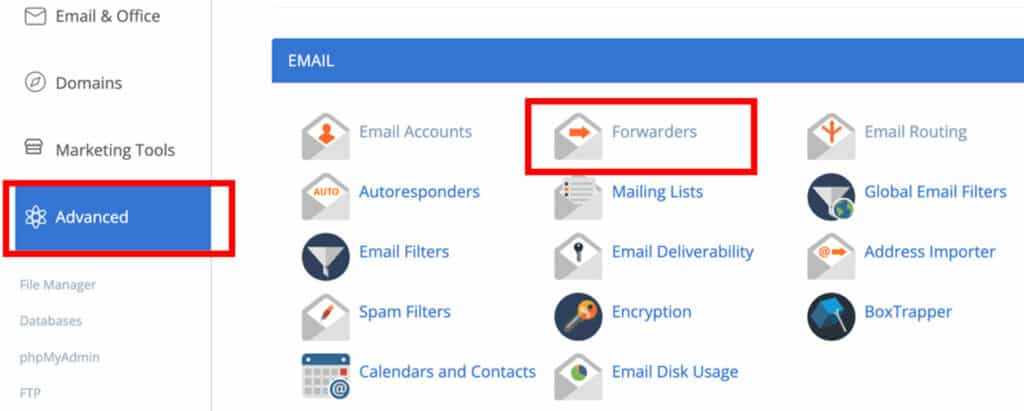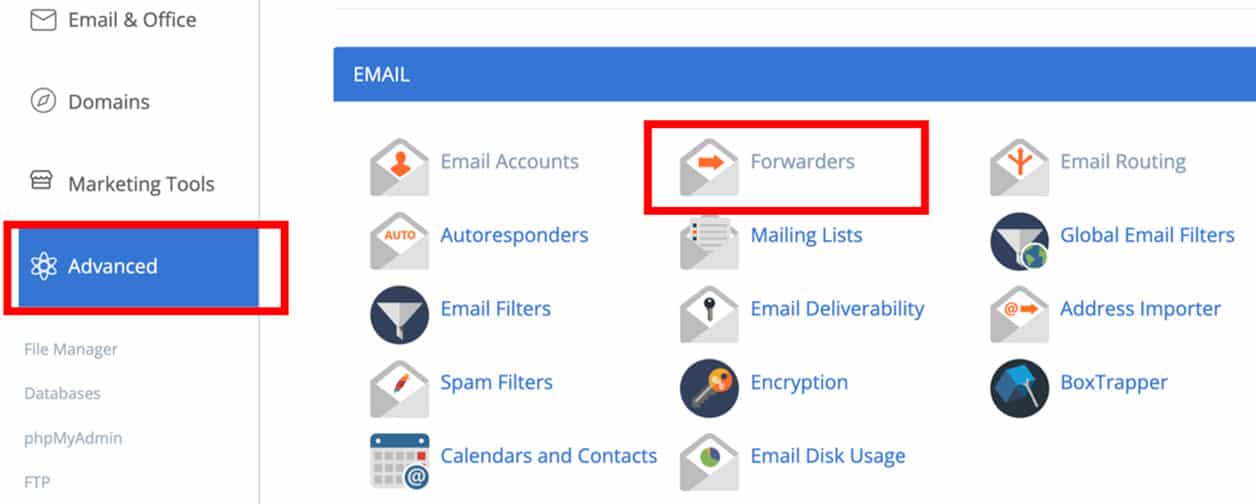 Click the Add Forwarder Button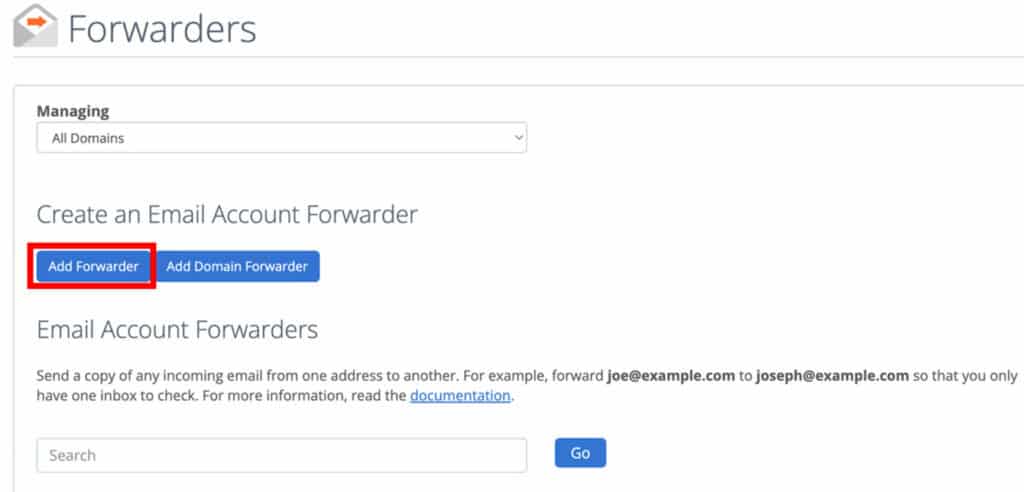 Enter the name of your Bluehost email account that you would like to forward in the Address to Forward field.
Enter the destination email address in the Forward to Email Address field (This should be the Gmail account you created)
Click the Add Forwarder Button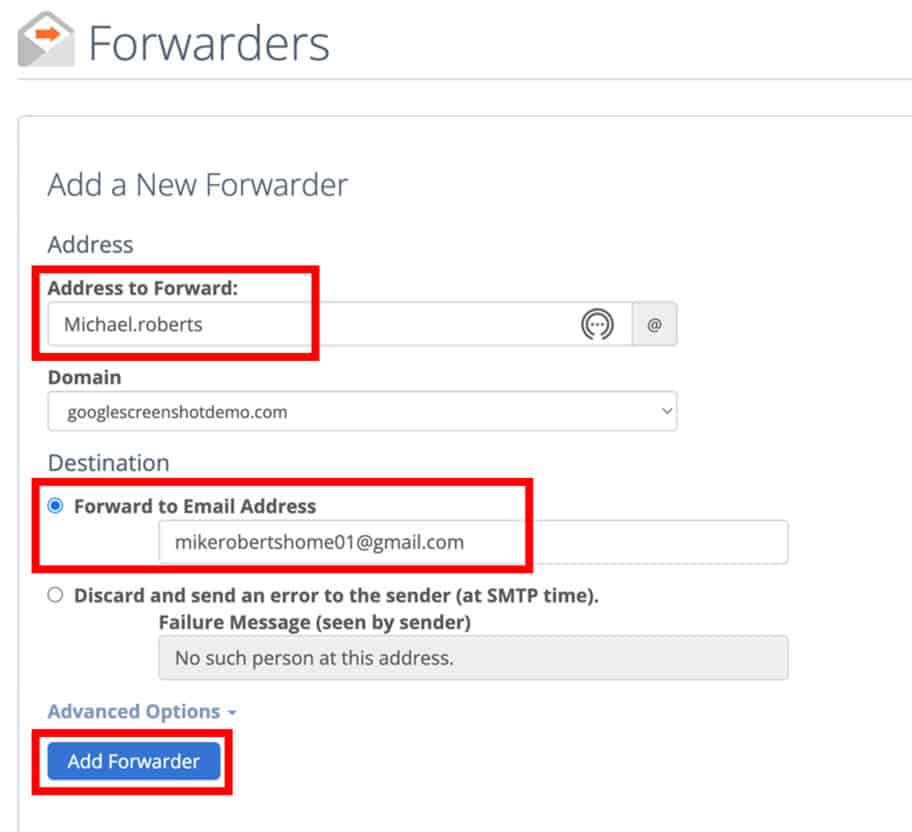 Add as many emails as you would like. In this example, I added my Michael Roberts email address and my Info email address
To test the system, send yourself an email and see if it appears in your Gmail account. If it did, you have successfully set up incoming emails for free in your Gmail account.
Using this Method With HostGator or Any cPanel Host
Log into cPanel
In the Mail section, click Forwarders
Under the Email Account Forwarders section, Click Add Forwarder
Type in the Address to Forward (you@yourdomain.org)
Select "Forward to email address" (you.organization@gmail.com)
Click Add Forwarder
Using this Method With GoDaddy
*Please note that as of December 31, 2020, GoDaddy no longer offers email forwarding credits. If you have an account that was created before this date you can follow the instructions below. If not, you will need to purchase Office 365 Email Essentials for $23.88/year and then go into the GoDaddy settings for email forwarding.
log in to your account and click your name in the top-right.
Select My Products from the drop-down
Scroll down to the section called Additional Products
Click the arrow to reveal the Email Forwarding section
Click the Redeem button
Select your domain name (Email Forwarding 100 Pack) and click Redeem Credit
Wait for the page to refresh
Scroll down to the Workspace Email section
Click the arrow to reveal your remaining credits for Email Forwarding
Click Manage All
You'll be redirected to the Workspace Control Center (you may be asked for your login details)
Click Create Forward
Under Forward this email address, type the address you want to forward (you@yourdomain.org)
Under To these email addresses, add your Gmail address
Click Create
Using this Method With DreamHost
Log in to your DreamHost Control Panel and select the relevant package
Click the Manage Email Addresses link from the Mail panel
Click the Set up forwards link located in the right corner of the page
Choose a name and domain for the forwarding address (you@yourdomain.org)
Type your Gmail into the Forward Target(s) box
Click Save
Step 4: Enable Gmail To Send From Your Custom Email Addressesusing SMTP
The previous sections were all about receiving business emails to your Gmail account. In this section, we are going to set up the sending functions, using something called SMTP. Like POP3, SMTP looks intimidating but if you follow these step-by-step instructions, you'll be sending out business emails from your Gmail account in no time. We're going to start back at Bluehost, on the same screen where we found the POP3 information.
Begin by clicking on the Custom Devices tab in your email account.
You'll see a section called Secure SSL/TLS Settings. The bottom part of the section has outgoing server information and an SMTP port. You will need these pieces of information for Gmail.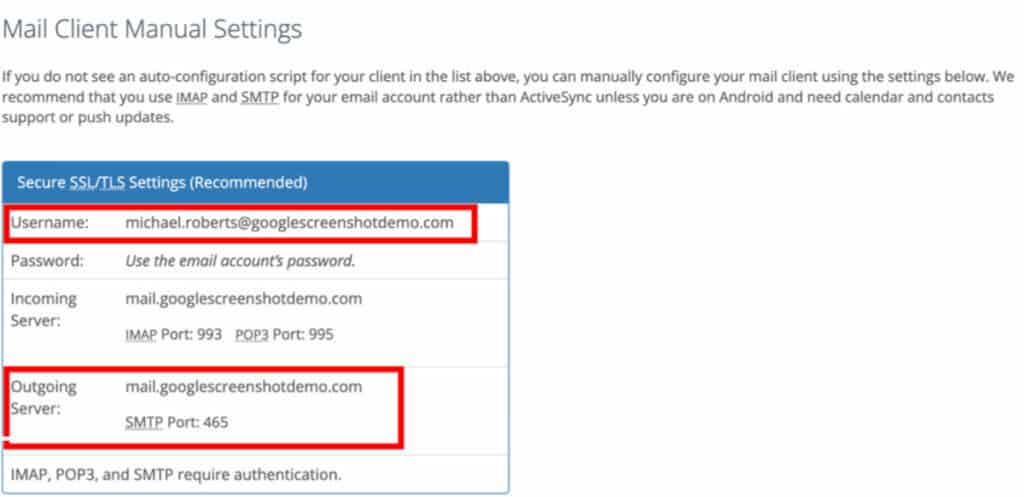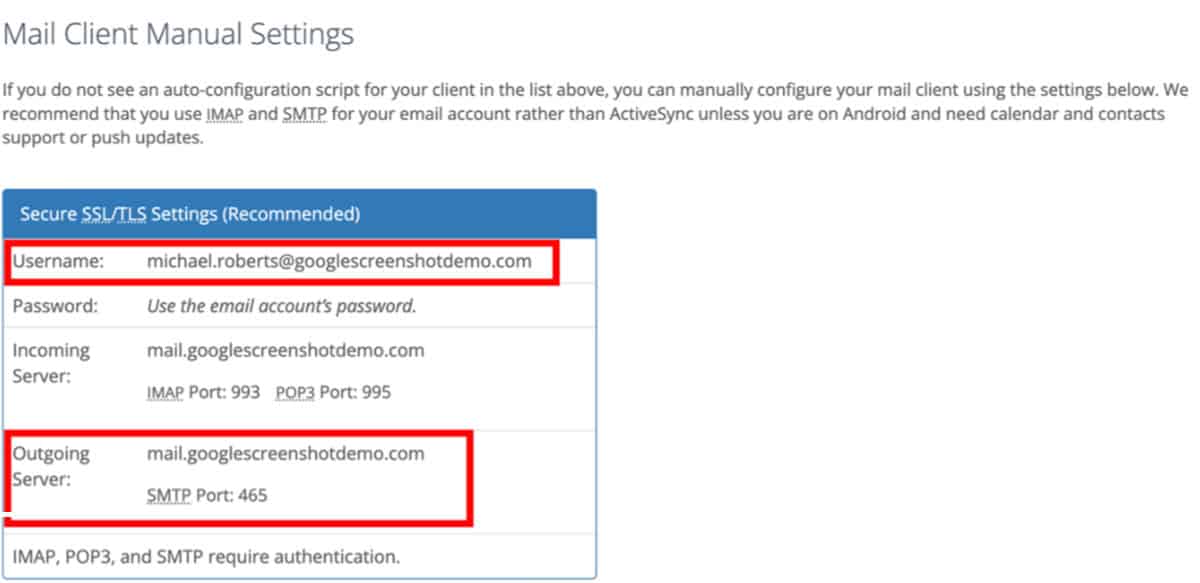 Once you have the information in front of you, it's time to head back to Gmail.
Open Gmail settings by clicking on the gear icon on the top right corner, and click the See all settings button
Click on the Account and Import tab in the center of the screen
Find the option that says: Send mail as. Click on Add another email address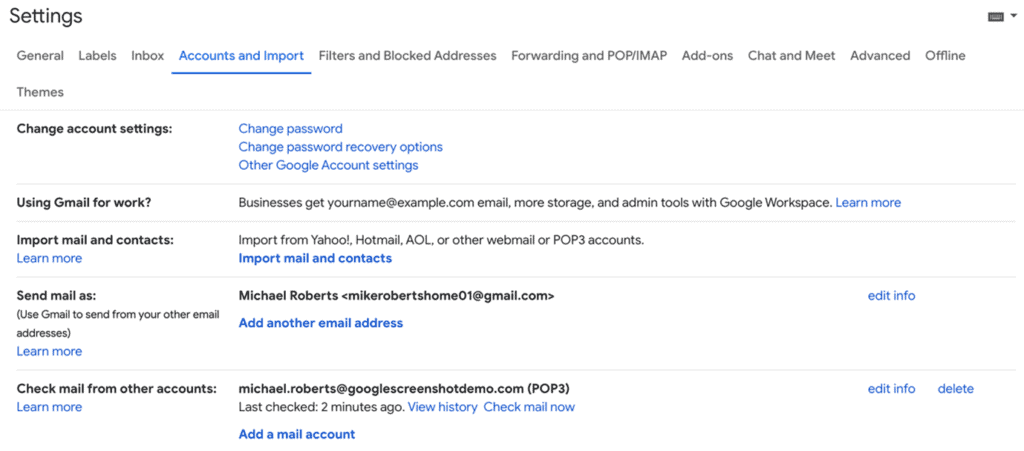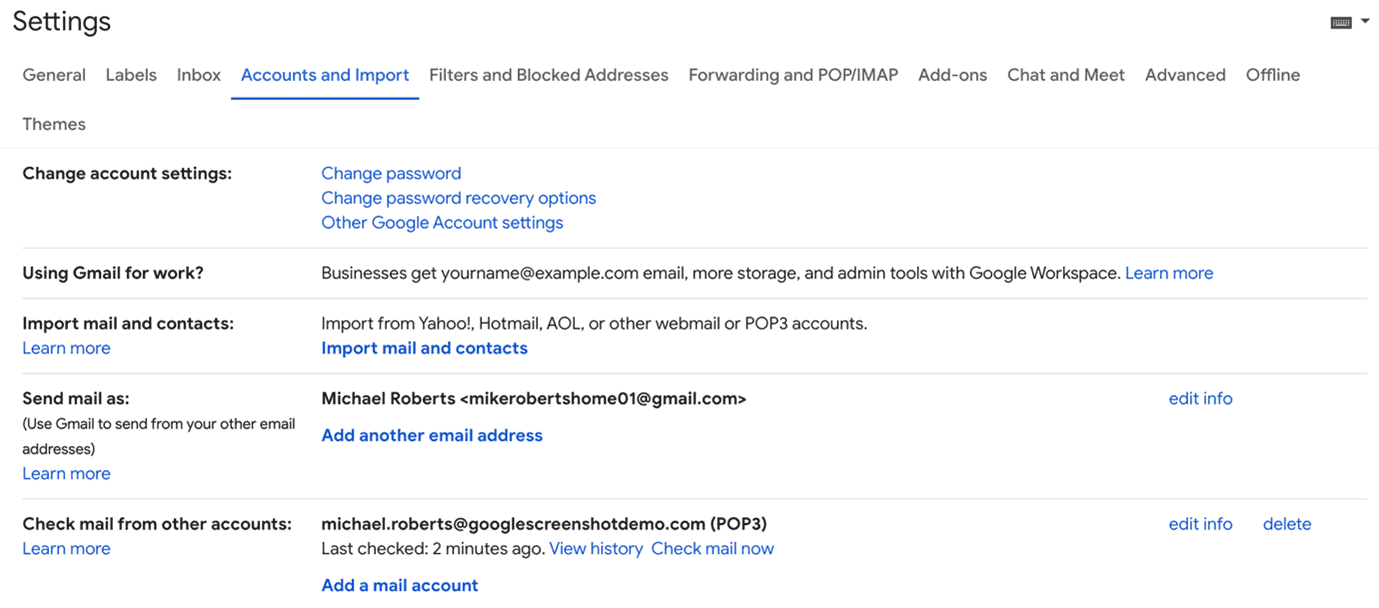 A new window will open. Enter the name you want an email recipient to see and your email address. Check the box next to Treat as an alias, and click Next Step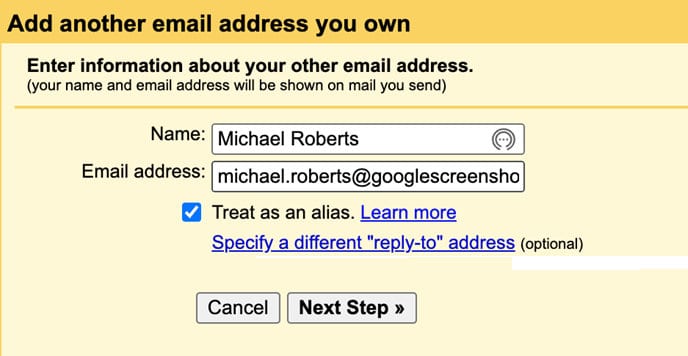 Enter the outgoing server information and port that is included on the Bluehost site
Enter your username and password from Bluehost
Select the radio button next to Secured connection using SSL
Click Add Account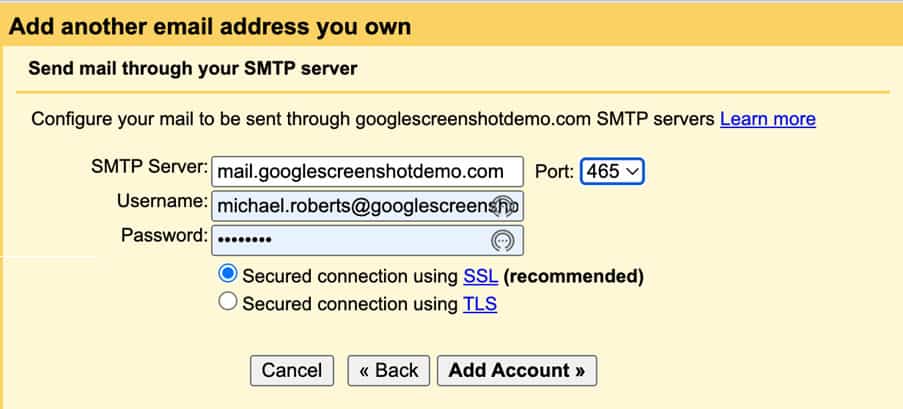 You will receive a verification notice. Follow the on-screen instructions and either click on the link in the email or enter a confirmation code in the window.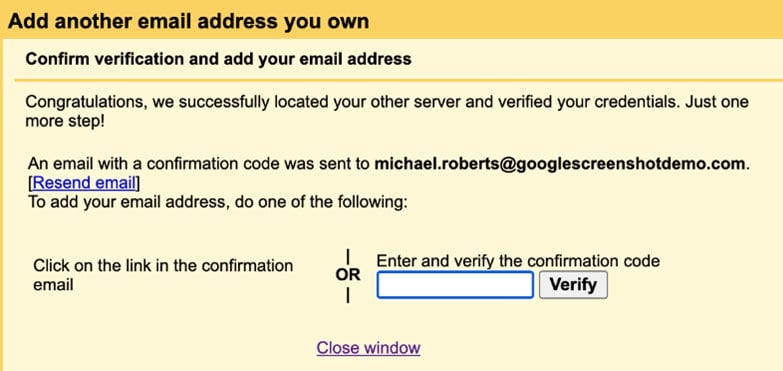 Step 5: Final Configuration
At this point, your email is set up so you can send and receive business emails from your regular Gmail account. Work messages will have labels to make it easy to track business emails.

When sending out messages, you should be able to select the account that you are sending from.

To test your setup, send an email to a friends or different email account to ensure that everything is set up correctly, and either reply or ask your friend to reply to make everything is working as expected.
And that's it! You now have Gmail with your own domain for free!
If you have any issues, comment below and I'll do my best to help you solve them.
How to Enable Gmail to work with your Custom domain name Through Google Workspace (formerly G-Suite)
Another option you have, if you're willing to spend a few dollars a month, is to pay for an account with Google Workspace (formerly called G-Suite).
Google Workspace gives you a custom email address and access to several Google business productivity and communication tools, including:
Google Drive – cloud storage
Google Docs – cloud work processing
Google Sheets – cloud spreadsheet tool
Google Slides – cloud presentation tool
Calendar – cloud-based calendar
Google Workspace makes it easier to share documents and collaborate with others in your organization. It can help your business look highly professional. The service costs between $6 and $18 per user, per month, but most small businesses can use the Business Starter package at $6.
There is also a Google Workspace Individual service which includes some business tools for $9.99 a month. However, this service does not include a business email address.
Creating your Google Workspace account
Many web hosts, including Bluehost, allow you to create a Google Workspace account directly from their interface. This is the easiest way to set up a Google Workspace as all configurations are pre-set up.
If it isn't an option, head over to Google Workspace, and click the Get Started button. Follow the wizard and answer questions about your business name, number of employees, and region where you are located. Although the process is pretty straightforward, we've created a detailed guide for setting up your email domain with Google Workspace.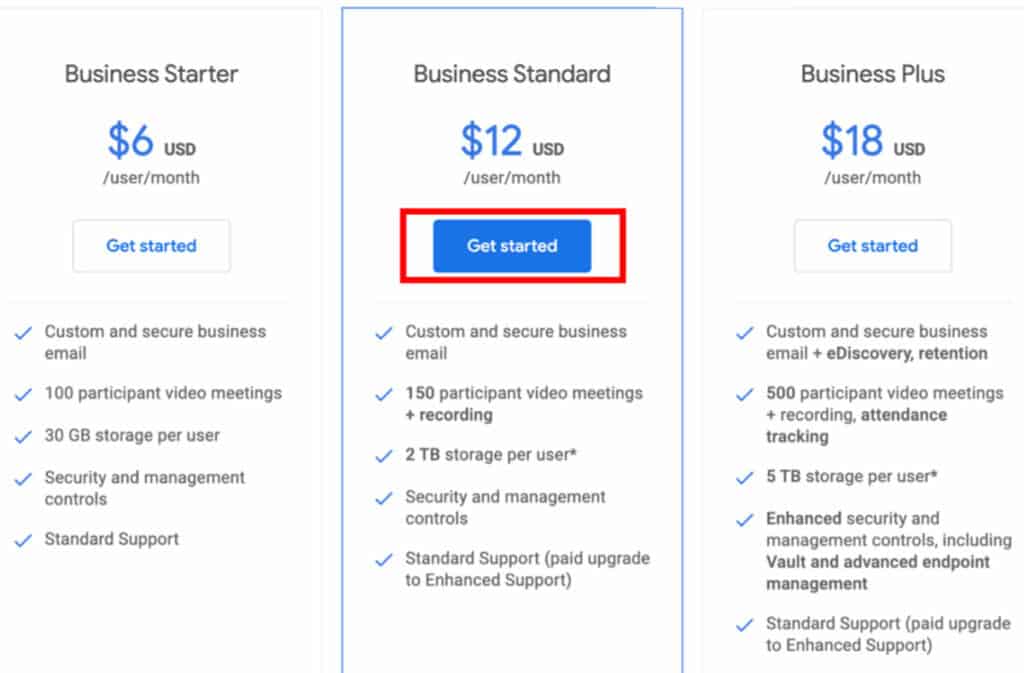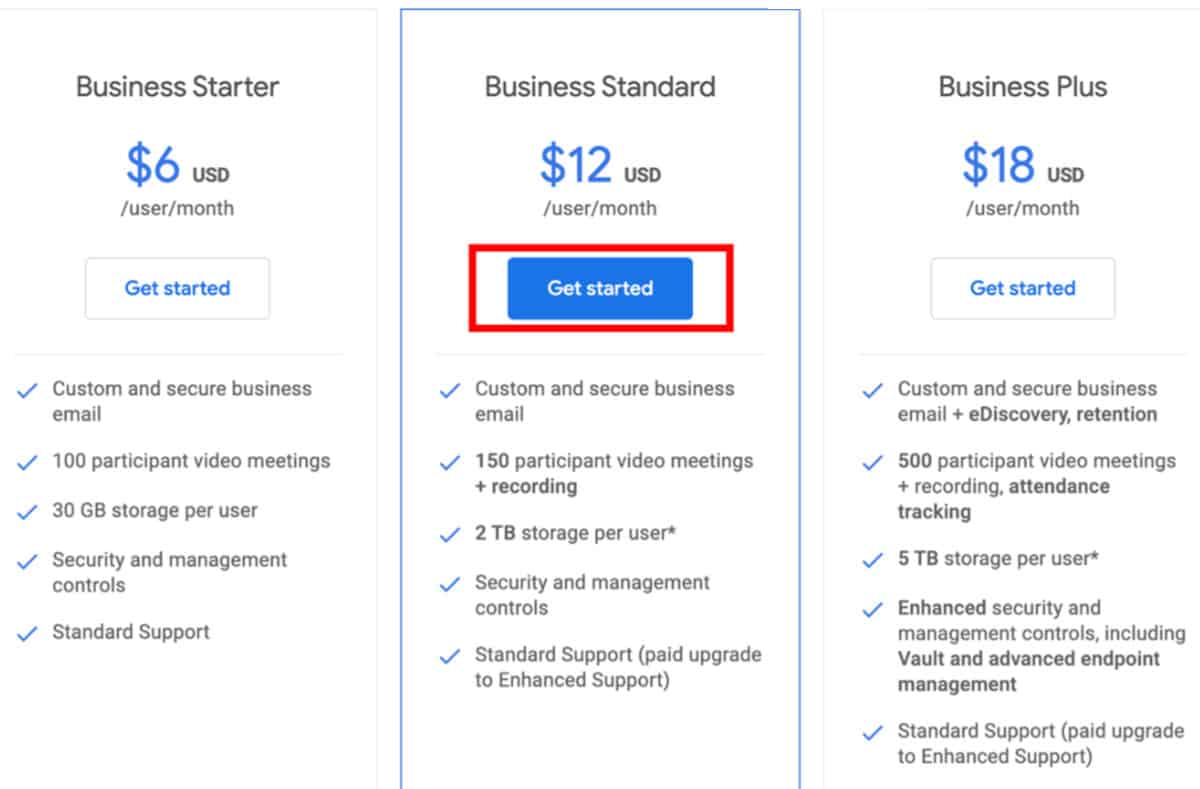 You'll also be asked for your full name and current email address, and whether you have a business domain. If you have a domain you can enter it in, or you can search for one and buy it there directly.
You'll be asked for a username and password, shown pricing options, and asked for payment information. You can try it for free for 14 days before being charged.
Get Started with Your Custom Gmail Email
In this post, we shared two methods for using the familiar Gmail interface with your work email. In the free method, you need to have an existing web hosting account first, and then you will have to do some configuration work to get everything running smoothly.
The second option is Google Workspace. This option is significantly easier but costs a little bit more.
If you have any questions or comments, leave a message in the comments and we will do our best to answer.